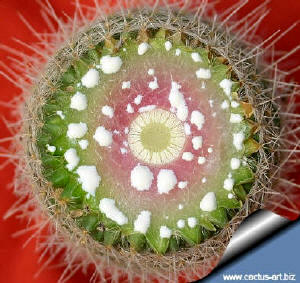 White latex in the cortex and tubercles
of Mammillaria geminispina (cross-section)
It is a complex emulsion in which proteins, alkaloids, starches, sugars, oils, tannins, resins and gums are found. Usually plants latex is white, but some have yellow, orange, scarlet or

colorless

. The cells or vessels in which latex is found make up the laticiferous system. This specialized vessels are called latex vessels. In the Asclepiadaceae and Euphorbiaceae families the laticiferous system grow into a branching system extending throughout the plant including roots, stems, leaves, and sometimes the fruits.
In some plants the latex is a form of stored food while in other is an excretory product in which waste products are deposited. But the primarily function of latices is to protect the plant in case of injuries, drying to form a protective film that prevents the entry of fungi and bacteria. Also, it may be a defence against herbivorous animals, in view of the fact that in some plants latex is very bitter or even poisonous. It may be that latex carry out all of these functions to varying degrees in different plant species.
The latex of the rubber tree is used to make the rubber.