Escobaria roseana (SB459 Higueras, Coah. Mexico)


Description: Small, soft bodied cacti. They are usually solitary but sometimes forming small clusters with age.
Stem: Up to 6 cm tall, up to 5 cm in diameter;
Ribs: The ribs have tubercles, with ungrooved areoles.
Spines: 4 to 6 central spines; 15 to 30 radials; whitish-yellow to rich gold coloured.
Roots: Thick tap root
Flowers: The flowers are at the stem tips, and range from pink with bronze-rose coloured midveins to cream-yellowish, 2 cm in diameter.


The flowers appear at the stem apexes and are cream to pink with bronze-rose midveins.





Acharagma (Escobaria) roseana SB277 - Los Imagines, Saltillo, Coahuila, Mexico.

Cultivation: Very slow growing. Because of the tap root they are very rot prone, so use highly gritty compost with much drainage and water regularly in summer, but do not overwater, it prefer a completely dry place during winter. An unheated greenhouse would be perfect. It can survive low temperatures (appr. -7°C). Full sun to light shade.

Propagation: Easy to propagate from seed or (rarely) cuttings if available.


Advertising




Origin: Mexico: mountains of south-eastern Coahuila and adjacent Nuevo León at elevations between 1500 and 2100 m.

Taxonomy: Acharagma is a genus formed by only two small species of cacti: A. roseana and A. aguirreana from northern Mexico. This plants previously classificated as Escobaria are instead related to Pediocactus and Lophophora, DNA sequence clearly support the hypothesis that acharagma is a distinct 'good' genus not closely related to Escobaria.

Conservation status: Listed in CITES appendix 2.
Synonyms:
Echinocactus roseanus Beodeker 1928
Neolloydia roseana (Beodeker) F. M. Knuth 1935
Thelocactus roseanus (Beodeker) W. T. Marshall 1941

Escobaria roseana

(Beodeker) F. Buxbaum 1951
Coryphantha roseana (Beodeker) Moran 1953
Gymnocactus roseanus (Beodeker) Glass et R. Foster 1970
Escobaria roseana subsp. galeanensis Haugg 1995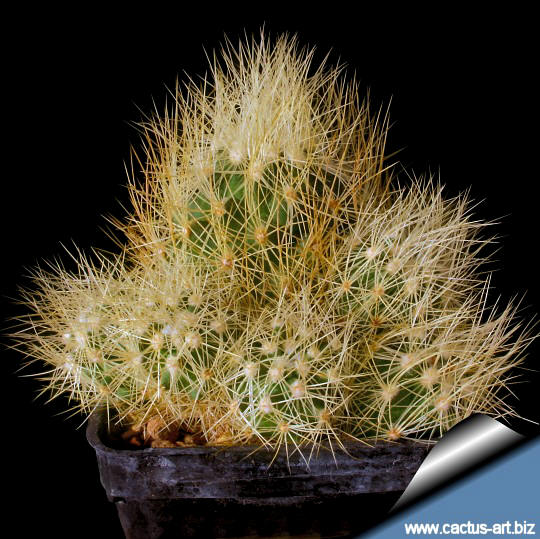 This uncommon cactus, has tiny, soft egg-shaped stems and will slowly form small clusters with dense golden spines.