Escobaria roseana
(L1187 West of Ascension, Nuevo Leon, Mexico)
The flowers appear at the stem apexes and are yellowish.


Description: Small clustering cactus with many crowded finger-like stems. Established plants can reach a height of 15 cm and width of 30 cm, with stems.
Stems: Pale green finger sized, initially erect that became prostrate up to 10 cm tall, 2-2,5 cm in diameter, up to 15 cm long.
Ribs: The ribs have tubercles, with ungrooved areoles.
Spines: 4 to 6 central spines; 15 to 30 radials; rich gold to dark amber coloured.
Roots: Thick tap root
Flowers: Yellow at the stem tips, small 1 to 2 cm in diameter.

Cultivation: Because of the tap root they are very rot prone, so use highly gritty compost with much drainage and water regularly in summer, but do not overwater, it prefer a completely dry place during winter. An unheated greenhouse would be perfect. It can survive low temperatures (appr. -7°C). Full sun to light shade.

Propagation: Seed or cuttings.





Advertising




Family:
Cactaceae (Cactus Family)

Scientific name: Acharagma roseanum ssp. galeanense
(Haugg) D.R.Hunt, 2002
Escobaria roseana ssp. galeanensis

E.Haugg, 1995

Escobaria roseana var. lauii
Origin: Type locality: West of Ascension, Nuevo Leon, Mexico 2650m (Field number L 1187)

Taxonomy: Acharagma is a genus formed by only two small species of cacti: A. roseana and A. aguirreana from northern Mexico. This plants previously classificated as Escobaria are instead related to Pediocactus and Lophophora, DNA sequence clearly support the hypothesis that acharagma is a distinct 'good' genus not closely related to Escobaria.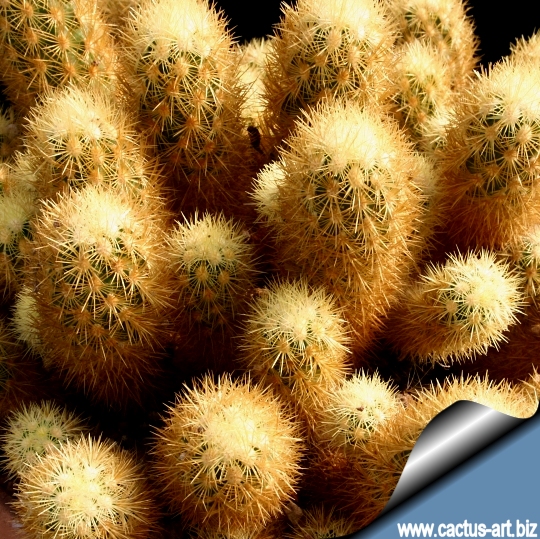 This uncommon cactus, has tiny finger shaped stems and will slowly form small clusters with dense golden spines.
Spines are gold-amber coloured.