A. juvenna is very attractive and forms smallish spikey rosettes from the base.
Leaves are bright green with lighter green spots on inner and outer surfaces.



Aloe juvenna is one of the dwarf aloes, and is unusual in that the growth pattern is erect.


Leaves turn a brownish bronze in hot summer sun, but plant tolerates it well.

Cultivation: Needs light shade to full sun, but will redden with more light exposure. Regular water in summer, keep dry in winter, needs good drainage It grows much better outdoors in spring and summer, it is also perfect for the bright windowsill. Avoid any frost.


Advertising




Family: Asphodelaceae
Scientific name: Aloe juvenna P. Brandham & S. Carter
Place of publication: Cact. Succ. J. Gr. Brit. 41(2):29. 1979
Origin: Kenya
Common Names include: Tiger Tooth Aloe '
Etymology: Aloe [Arabic alloeh, a name for these or similar plants]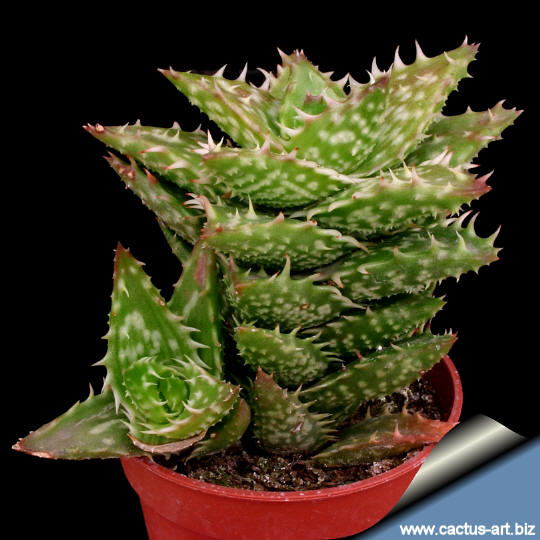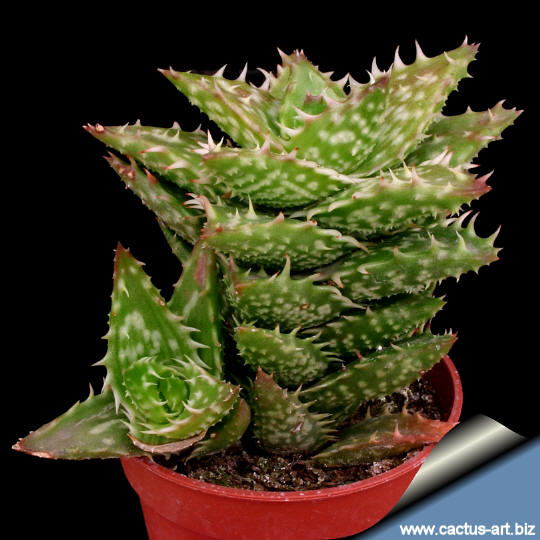 Description: It is a miniature aloe with erect or procumbent multi-branching stems. Suckers profusely and makes almost a groundcover effect.
Stem: Basally branching, approximately 10-30 cm tall.
Leaves: Succulent bright green flecked with cream-white prominent spots on inner and out surfaces, leaf margins have small teeth. The leaves form small rosettes that give the impression of fuzziness from a distance (is not, though). Leaves turn a brownish bronze in hot summer sun, but plant tolerates it well.
Flowers: Bright coral-pink. Inflorescence usually simple (not branched) .
Blooming season: Warmer month.

Propagation: Cuttings or (rarely) seeds.