Aloe longistyla (A young specimen)
A. longistyla is one of the smallest species with blue-grey waxy leaves edged in soft white/pink teeth.


Leaves are blue-grey green, unspotted and bordered by red teeth and form a spiralled rosette at the stem apex in old plants, but in juvenile plants they are ranked in vertical rows.

Aloe longistyla grows well in cultivation, provided it has frost protection.





Advertising




Family: Asphodelaceae
Scientific name: Aloe longistyla Baker.
Cactus Succ. J., Las Ang. 19: 54-55.

Common Names include: Karoo Aloe, Ramenas, Aloe
Origin: South Africa (Southern and Eastern Cape province: Little Karoo and western Great Karoo)
Habitat: Aloe longistyla grows in arid areas, in sandy soils or on flat stony places and on sloping hill sides.

Etymology: The specific epithet "longistyla" refers to the long style which protrude from the mouth of the flower.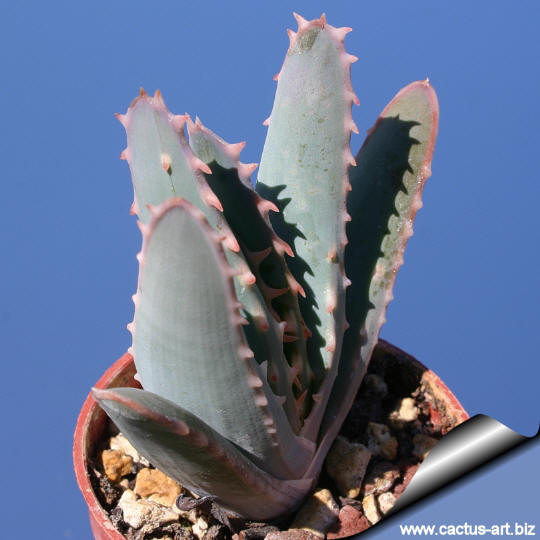 Description: Aloe longistyla is a smaller plant with upright habit that in time of drought it tends to curl in on itself. It is very slow to sucker if at all. Individual rosettes not exceeding 20 cm in diameter. Sometime older plants clusters forming group up 10 loose rosettes, up to 25 cm in diameter (or more)
Stem: Stemless
Leaves: Approx 20-30, in a compact spiralled rosette at the stem apex in old plants, but in juvenile plants they are ranked in vertical rows. Leaves are upright, lanceolate, grey-green to blue-green with a waxy-like surface. Leaves are covered with white, thick, soft to firm, teeth (3-4 mm wide) on lower surface and margins approx 5 mm apart. The teeth base is tubercular.
Flowers: Huge if compared to the foliage, they are usually borne on a relatively short stalked (15-20 cm tall) single raceme just above the leaf tips. The flowers forms a conical raceme 11x11 cm wide, with 40-50 salmon pink to coral flower. The flowers are tubular 50-55 mm long, with a rounded base up to 8 cm across and curve upward on the upper 1/3. They have unusually long protruding stamens up to 25 mm long. Pedicel 6-8 mm long,
Blooming season: Late winter.
Fruit: The flowers are followed by large grey fruit capsules.


Cultivation: Easy to grow, requiring very little care. It can be grown in large containers. Always use a good quality, loamy sandy soil with plenty of drainage chips at the bottom of containers. It tolerates weekly watering in the summer; once a month, or not at all in the colder months of December and January. Can withstand long periods of drought, but they will thrive and flower more profusely if watered in the correct season. Incorrect watering, poor drainage or too much shade can lead to attack by pests and diseases. They can take a few degrees of frost in winter as well, but prefer hot summers. It grows much better outdoors in spring and summer.
In mild climates it can be cultivated outdoors for use in landscaping, preferably planting it in hot and dry rock gardens. They will grow best in regions with a climate close to that of their native deserts not too cold, and not too wet.
Propagation: Almost exclusively by seeds planted in autumn, in trays of coarse river sand.

Uses:
Gardening: Well suited to a rock garden, on a sloping bank or even in containers. Plant in bold clumps. It is a very rewarding plant, especially in winter when the flowers add a fiery glow to an otherwise drab garden.

This fine little Aloe obtained its name because of the very long
styles, which may be seen protruding from the throat of the flowers in winter.