Some authors identifies the white spotted form of A. vera as A. vera var. chinensis, however, the species varies widely with regard to leaf spots and the spots usually present on young plants tends to fade with age.


Description: Clumping suckering succulent with short stems leading to compact stiff rosettes growing to 60–100 cm tall, composed of leaves which are usually, each about 20 cm long. Aloe vera is widely cultivated and plus than 150 different clones and variety are available. Nomenclature is controversial too; The species does not have any naturally occurring populations though closely related Aloes occur in northern Africa, but it is mentioned even in very ancient Chinese texts on medicine. As this spotted plant is not the grey surfaced form found in the Canaries, this is considered to have undergone many re-selections over the centuries and is occasionally designated as the form 'Chinensis.'
Leaves: Large fleshy, dagger-shaped, channelled bluish or grey-green, with some varieties mottled with purple or white spots on the upper and lower leaf surfaces, however the spots tends to fade with age. The juvenile specimens have narrower leaves with lighter spots, while mature specimens have wider solid green leaves. Some of the Aloe vera sold retain the juvenile characteristics. They have spiked edges (serrated) with small white teeth or may be smooth.
Flower: Showy, tubular 2–3 cm long, borne on ann up to 90 cm tall spike, each flower pendulous in tones of yellow, but many of the clones available have orange flowers.
Blooming season: Summer.



Advertising




Family: Asphodelaceae
Scientific name: Aloe Vera (L.) Nicolaas Laurens Burman
in: Flora Indica 6th of April, 1768

Origin: Probably originated in northern Africa (Algeria, Morocco, and Tunisia, along with the Cape Verde Islands, Canary Islands, Maderia) but diffused and cultivated throughout the world.
The species is widely naturalised elsewhere, occurring in temperate and tropical regions of Australia, India, Vietnam, Taiwan, Barbados, Belize, Nigeria, Paraguay and the USA. It has been suggested that, like many Aloes, the species is originally from Southern Africa and that populations that occur elsewhere are the result of human cultivation.
Common English Names include: Medicinal Aloe, Chinese Aloe, Indian Aloe, Medicine plant, True Aloe, Barbados Aloe, Burn Aloe, First Aid Plant, Bitter Aloe, Wand of Heaven and Miracle Plant.
Etymology: The genus name "Aloe" is derived from the Arabic, "alloch" and translated as "alla" in Greek and Hebrew, literally meaning bitter or bitter sap which is descriptive of Aloe sap. The species name "vera" means true or genuine.
Aloe perfoliata var. vera Carl Linnaeus 1753 (basionym)
Aloe barbadensis Philip Miller 1768
Aloe indica Royle
Aloe vulgaris Lam.
Aloe chinensis
Aloe elongata
Aloe flava
Aloe lanzae
Aloe perfoliata var. barbadensis
Aloe vera var. chinensis
Aloe vera var. littoralis
Aloe vera var. wratislaviensis
Aloe barbadensis var. chinensis
Aloe vera var. lanzae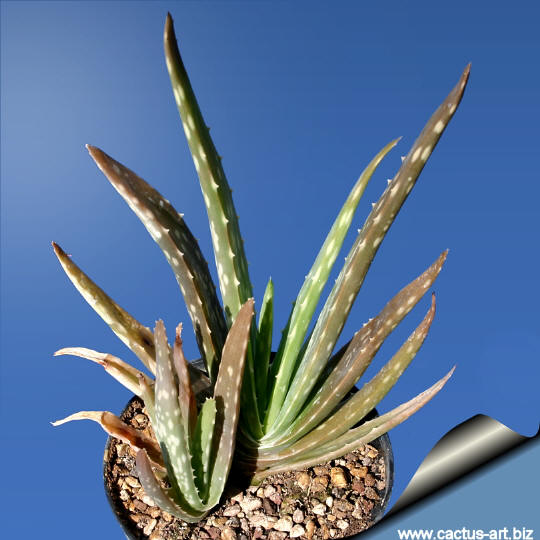 It is a popular houseplant with a long history as a multipurpose folk remedy.
Cultivation: Very commonly encountered, it is a resistant plant that tolerates poor soil and drought, but requires excellent drainage and usually does not give many problems in cultivation. It is a particularly fast-growing, tough and adaptable species. Needs bright sunny conditions but enjoy some shade in summer. Abundant irrigation at time of growth. The plants favour mild to hot summers. They can resist some cold and occasional snow in the rainy season although the frosts produce wounds and burns that disfigure their aspect. Needs protection only against severe frost. (The leaf tips get damaged below -3°C).
Grow it in light, fertile, well-drained, moderate soils, with a slightly acidic pH (5-6). .
Plant in rock gardens and flower pots. Also suitable for coastal planting.
It is a profusely suckering species, and one plant can eventually cover a large area. The plant in itself is very tough and can survive often for several seasons without water, at which point the leaves turn a reddish colour, a sign generally associated with stress.
Maintenance: Removal of old flower stalks; Divide the crowded clumps periodically. During the winter months A. vera may become dormant, during which little moisture is required, and the plants should be grown cool to initiate flower development (about 5-10°C ) In areas that receive frost or snow the species is best kept indoors or in heated glasshouses.
Reproduction: By division of offshoots that develop around the outside of the main rosette in spring. The best results are achieved by simply making stem cuttings. Allow cuttings to dry for a few days and insert into river sand and keep moist. The roots appear after about two weeks.

USE: Aloe vera is renowned for its medicinal and cosmetic uses, however scientific evidence for the the effectiveness of Aloe vera is limited and contradictory. Its leaf containing 12 vitamins and several other active ingredients. It is widely used in alternative medicine. The moist gel inside the Medicinal Aloe leaves is used for the treatment of burns, cuts, sunburn, eczema and other skin complaints. It is also widely used in cosmetics. As a food, A. vera is very bitter and unpalatable and mildly toxic if ingested.