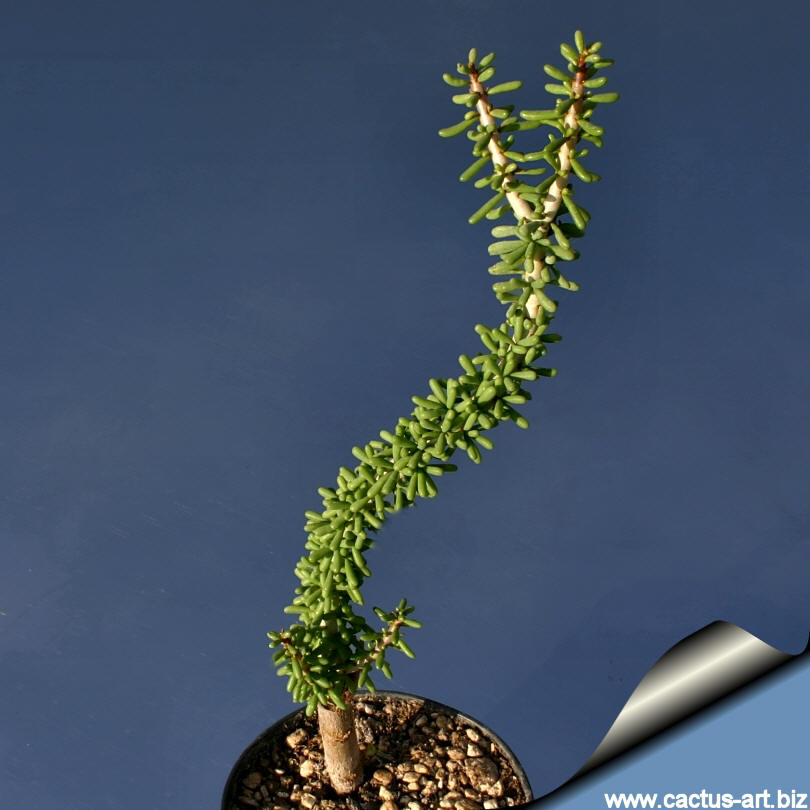 Ceraria namaquensis is a wonderful shrub, with a few branches, and many tiny ovoidal
leaves along its stems. Interesting for bonsai work, and relatively easy to grow, but very slow.
It is usually grown grafted on Portulacaria afra


Description: Very slow growing smallish, woody stemmed desert shrub, 1.3 to 1.8 m tall high, with many short, spiky semi-deciduous, succulent leaves.
Stems: Branches are pale-barked (whitish or greyish-green), smooth with a papery cortex and dichotomous, the ultimate as thick as a goose-quill.
Leaves: Ovoid green or grey-green 4 to 8 mm long, minute, sessile. The leaves are produced on short shoots (brachyblasts). The Ceraria loses its leaves during the summer drought in the wild but in cultivation seems to retain its leaves year round, and a certain degree of growth.
Flowers: Peduncles 13-17 mm long, angular, unbranched. Pedicels involucrated by some minute ovate bracts, about 4 mm long, solitary or few. Calyx 2-phyllous, three times shorter than the 5 rose-colored, obovate, near 2 mm long petals. Stamens 5; filaments linear. Anthers oblong, emarginate at both ends. Ovary ovate. Style short.

Cultivation: It is usually grown grafted on Portulacaria afra. This species is of easy cultivation but very slow growing and seems to want to grow all the year round in the greenhouse. Seedlings and rooted cuttings are more sensitive and cannot tolerate stagnant water around their roots (especially in winter) as this species comes from very dry areas. Keep warm in winter.

Propagation: Seeds, cuttings or (usually) grafting.
It is said many times that C. namaquensis is impossible to root and so it is usually grafted on to stems of Portulacaria afra. Furthermore is very easy to graft it onto the Portulacaria and the two plants grow very well when grafted.
But despite that, cuttings taken in summer have proved to be able to root in commercial peat blocks (often used for rooting more difficult items such as rarer euphorbias, Madagascan thorn bushes and stems of Pachypodium succulentum). A good percentage of cuttings survive well in the moist peat blocks and after about three months begin to root and grow. P. afra and C. namaquensis (the wolftoon) are the only members of the family which grow to tree size.