It is notable for its show of long-lasting bright yellow flowers. Blooms from autumn to hearly winter.


Description: Cheridopsis brownii is a small cushion forming leaf succulent, it has approx the size of a Lithops and forms clumps 5-10 cm in diameter. Cheiridopsis are dormant in summer.
Stems: Very short with only 2 or 4 leaves.
Leaves: Bluish-grey-green 3-5 cm long with darker green dots, united to form a conical body.
Flowers: Yellow, up to 6 cm in diameter.
Blooming season: Late autumn. Sometime plants blooms when though they are still in their old sheat.

Note: Cheiridopsis are distinguished from Lithops for the fact that the flower has 12 stigmas, versus 5 or 6 in Lithops. This directly affects the number of seed chambers.



Advertising




Family: Mesebrianthemaceae (Aizoaceae)
Scientific name: Cheiridopsis brownii Schick & Tischer
Origin: Coast around Alexander Bay and Richtersveld Natl Pk, Orange River, Cape province, South Africa.

Habitat: Coastal desert mountains, grows in shale or on quartz ridge in cracks and fissures.
Conservation status: Listed in CITES appendix 2.
Etymology: Cheiridopsis brownii was named in honour of Brown by Dr Tischer who died in 2000 at the age of 105
Cheiridopsis graessneri Schick & Tischer
Cheiridopsis staminodifera L.Bolus
Cheiridopsis insignis Schwantes
Cheiridopsis pachyphylla Schwantes
Cheiridopsis schlechteri Schwantes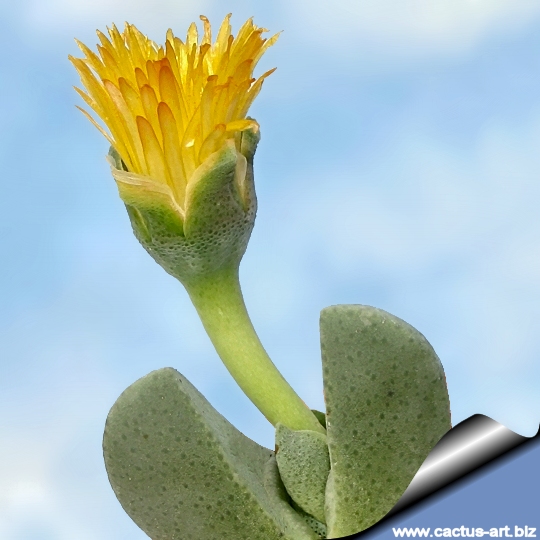 Cultivation: Cheiridopsis is easy to grow. These plants grow on winter rain and were heading for summer dormancy. Requires little water otherwise its epidermis breaks (resulting in unsightly scars). Water minimally in summer, only when the plant starts shrivelling but will generally grow even in summer if given water. Requires good drainage. Keep cool and shaded in summer, need full sun or light shade. Hardy to -2°C

Propagation: Seeds, cuttings.