Cheiridopsis caroli-schmidtii
This species produces long lasting flowers in winter.


.

.





Advertising




Family: Mesebrianthemaceae (Aizoaceae)
Scientific name: Cheiridopsis caroli-schmidtii (Dinter & A. Berger) N.E.Br.
In: Gard. Chron. Ser. 3, 79:497, 425. 1926
Habitat: Granite and quartz outcrops.
Origin: Namibia, South Africa (Great Namaqualand)
Conservation status: Not endangered.
Mesembryanthemum caroli-schmidtii Dinter & A. Berger
In: Bot. Jahrb. Syst. 50(suppl.):587. 1914
Etymology: The genus name "Cheiridopsis" comes from the Greek for "looking like a hand".
The species was named after "Carl Schmidt", plant grower and owner of the "Haage & Schmidt nursery" in Erfurt, Germany.
Description: Cheiridopsis caroli-schmidtii is a small leaf succulent, 5(-10) cm tall and 15-20 cm in diameter, it clumps easily and forms a mound of withered leaves. Cheiridopsis are dormant in summer. During that time they look kind of dry, or dying.
Stems: Stemless or with a very short stem.
Leaves: Up to 4 cm long, thick, opposite, joined at the base, fleshy, three-angled and keeled, silvery green with conspicuous transparent dots (translucent in backlight) in group of two or three pairs, with the shorter drier outside pair framing the larger younger inner pair.
Flowers: Chrome yellow, daisy-like, solitary and pedicellate about 3.5 cm in diameter and their size gradually increases in the course of several days after blooming.
Blooming season: Flowers from early winter to spring.
Fruit: The fruit is a multilocular capsule with awned wings, membranes and large closing bodies.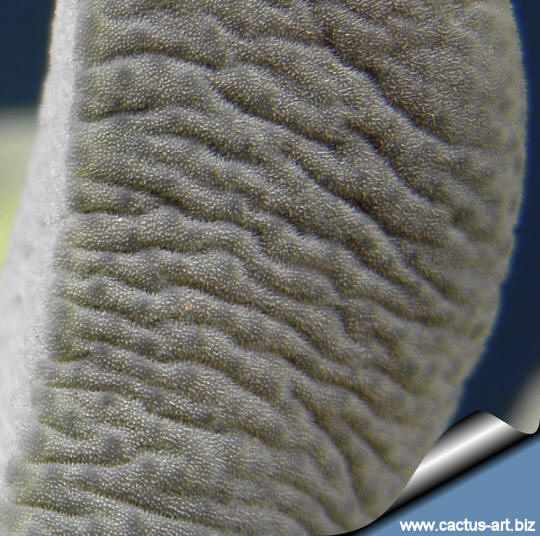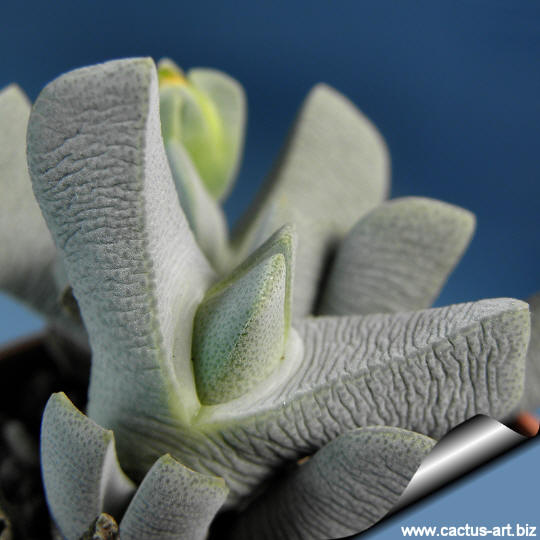 Cultivation: The Cheiridopsis are easy to grow. These plants grow in winter rain-areas and head for dormancy in summer. Requires little water, otherwise its epidermis breaks (resulting in unsightly scars). Regular water in autumn through to spring. Water minimally in summer, only when the plant starts shrivelling but it will generally grow even in summer if given water. Requires good drainage. Keep cool and shaded in summer, needs full sun or light shade. Hardy to -2°C (or less)
Propagation: Seeds, cuttings.