Coryphantha tripugionacantha
This is one of strongest spined species.




C. tripugionacantha belongs to the group of plants related to C. pallida

,

characterized by great yellow flowers without visible glands in the furrows of tubercles.
.

.


Advertising




Family: Cactaceae (Cactus Family)

Scientific name: Coryphantha tripugionacantha A. B. Lau 1988

Origin: Mexico (Zacatecas in the region of San Juan Capistrano) At about 1000 m of elevation).

It grows sympatrically with E. spinigemmatus and Mammillaria, most possibly obscure, M. obscura.

The plant was found in nature by JosÚ Barron (a pupil of the local missionary school).

Conservation status: Listed in CITES appendix 2.

Etymology: The species epithet "tripugionacantha" comes from three three strong, curved, flattened, sword-shaped central spines.
Description: Usually solitary globose cactus, but often small groups are formed by underground stolons.
Stem: Globose, somewhat depressed apically, blue green when young, later dull green, up to 9 cm in height and width.
Tubercles: Flattened, more or less rounded, up to 20 mm high. Axil is woolly at first, later naked, without glands.
Roots: It has a huge taproot.
Central spines: 3, very stout, curved inward, grey with dark tips, radiating. 18-20 mm, radiating, lower one longest.
Radial spines: 8-9 radiating, curved inward, unequal, brownish grey, 8-9 mm long.
Flowers: Creamy yellow, 6-7 cm in diameter
Fruit: Oblong, juicy, opaque green. Up to 35mm long.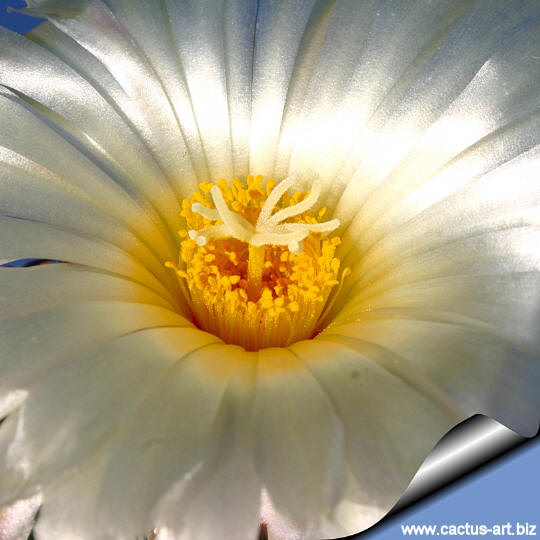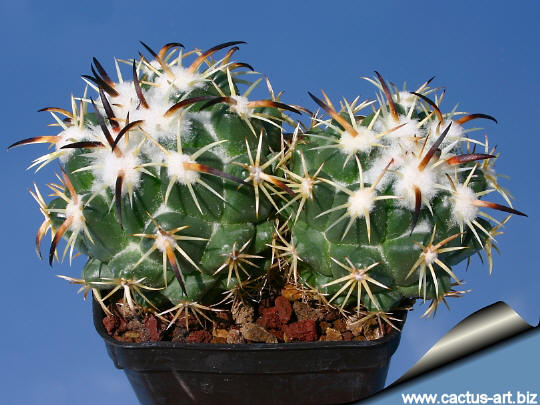 Cultivation: In culture C. tripugionacantha is without problems, but it grows slowly and rarely blooms. It does best in slight shade, but does well in full sun, too. It is sensitive to over-watering (rot prone), and needs a very porous soil with good drainage.
It flowers quite early, but needs about 8-12 years to reach its typical, definite aspect. It tolerates fairly low temperatures as long as it is kept dry (hardy to -5░ C or less, for short periods of time).
Propagation: Propagation is by seed. It also produces occasional underground stolons that can be detached from the mother plant.