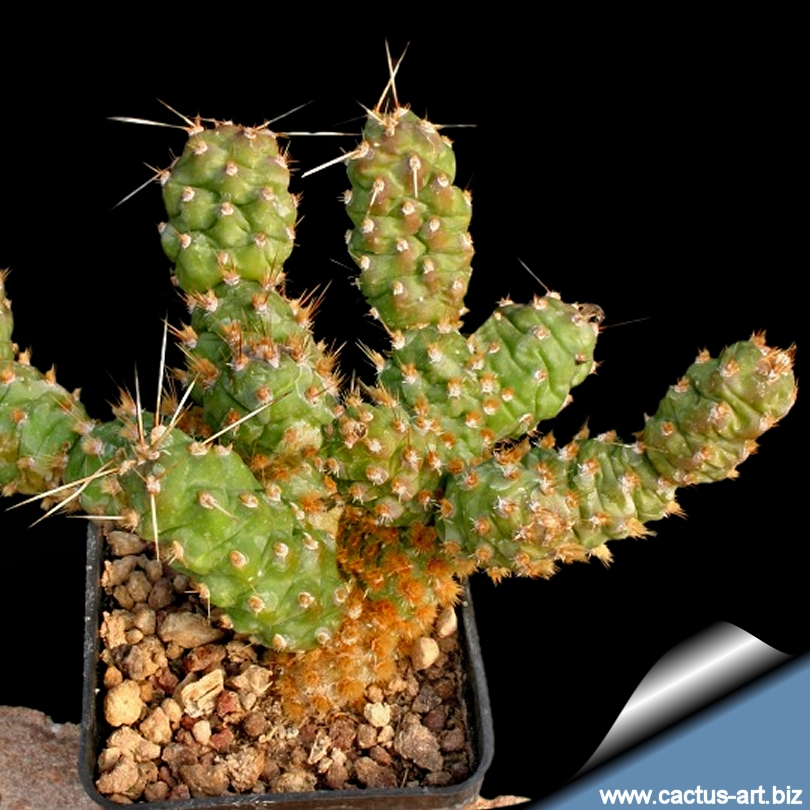 C. rossiana is a cushion forming succulent from the high mountains of Bolivia and Argentina.

Description: Cushion forming succulent, each segment up to 5 cm long
Leaves: The leaves are minute and ephemeral.
Flowers: yellow, orange, brownish-red, or red.

Advertising
Family:
Cactaceae (Cactus Family)
Scientific name: Cumulopuntia rossiana (Heinrich & Backeberg) F.Ritter 1980

Origin: Southern Bolivia, northern Argentina

Habitat: they grow high in the mountains in hot, dry Planes or Prairies. Despite the harsh conditions, including hard frosts on virtually every night of the year, cacti can still be found in the form of dense "cushion" clumps.
Tephrocactus pentlandii var. rossianus
Tephrocactus microcladus
Opuntia rossiana
NOTE: Cumulopuntia is a very controversial genus genus of cacti closely related to Maihueniopsis.
Cultivation: Cumulopuntia cannot endure any standing heat and need an absolutely airy and sunny place this brings very healthy plants with a good spination and flowers. Use a very draining compost-mix with a high mineral content, they needed deeper pots to accommodate the big tap root. Water and feed in the vegetation period from April until to mid of September, keep dry and cool in winter, they have to be stimulated to bloom by dryness and you may give them water first when the plats start to produce the new buds. Pot bound, starved plants will rapidly look tatty and won't flower well.
Propagation Cuttings (let dehydrate the cuttings for a few weeks and the roots will coming quick)