Desription: E. lindsay is an heavily spined cactus with usually a solitary stem, but sometime it branches forming clumps with several stems. The spines are very robust and long almost obscuring the stem.
Stem: Up to 13 cm tall and 10 cm in diameter. Spherical to cylindrical, grey-green to green.
Central spines: Usually 4 (but sometime up to 7) strong, round in cross section, 1,5 to 10 cm long usually curved, bright red when young later dark grey to brown.
Radial spines: 8 to 14 shorter, spreading, whitish 0,8 to 4,5 cm long.
Flowers: 6-10 cm long, 4-9,5 cm broad, arising laterally near the apex, funnel-shaped, pink, bright purple to dark magenta with an orange to deep-red contrasting throat. Sigma reddish.
Blooming season: May.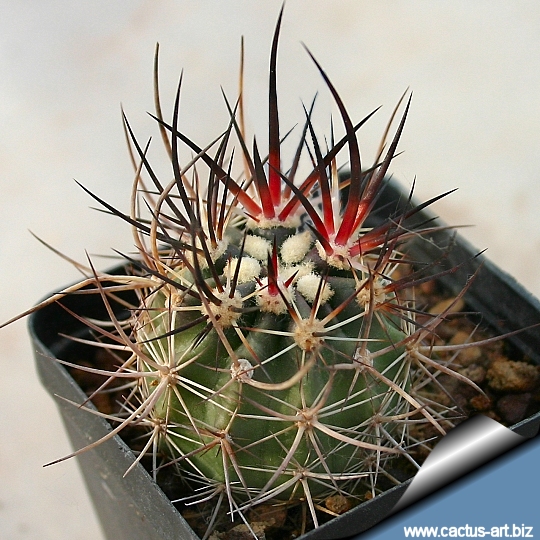 Cultivation: This plant from Baja California needs warmer winter temperatures, and can resist only occasional light frost, above -2C. It is sensitive to overwatering (rot prone) and needs good drainage. Fertilize with half-strength liquid fertilizer in summer. Keep absolutely dry in winter. Needs full sun;
Propagation: Seeds or cutting (if available)