It is surely a bizarre Euphorbia, and has some really unusual thick, wrinkled leaves. A special plant indeed!





Description: E. decaryi is a small, leafy succulent with a shrub-like development and beautiful wavy, zig-zag edged leaves. It is a mat-forming species and spreads almost horizontally on the ground by means of rhizomes.
The Euphorbia decaryi growth form illustrates the typical horizontal habit of most Madagascan euphorbias.
Stem: Succulent, partially subterranean, not very thick around, more or less angled and spiraled.
Leaves: Evergreen or semi-deciduous, deep-red and green coloured, very succulent, highly undulate, and very attractive. Leaves form apical rosettes that in summer assume a nice purplish-red colouring.
Flowers: Beige, bell-shaped.

NOTE: This is a variable species and there is a lot of confusion caused by the several horticultural forms that have popped up in the trade over the years.



Cultivation: E. decaryi is one of those plants that turn out to be difficult if treated as a difficult plant and kept too dry. They are indeed easy to cultivate although slow growing. In the heat of summer the plant needs a good amount of water. Even in winter its soil should never completely dry out. Though it tolerates a dry over-wintering, it then gets in trouble in spring when it has to produce new roots. These plants don't seem to love being blasted by the sun in the summer but prefer bright light, and will therefore not make demands on your prime growing space.
The ideal temperature in summer is about 25°C; in winter above 15°C. They can grow both in pots and in the ground in areas with mild climate, but they can even be grown indoors. Reported as cold sensitive they can indeed survive outdoors, where they proved to be able to take some light frost with minimal damage.
Use a very draining loose compost, and place the plant in a wide flat bowl. If the plant remains dormant after repotting, you can rouse it with a shock (first you have to wait about two weeks after repotting to let all wounds heal.) Water it with hot water (40 to 50°C). Healthy plants usually react within 2 to 7 days


Advertising




Family: Euphorbiaceae
Scientific name: E. decaryi A. Guillaumin

Origin: Endemic to Madagascar.
Conservation status: Listed in CITES appendix 1.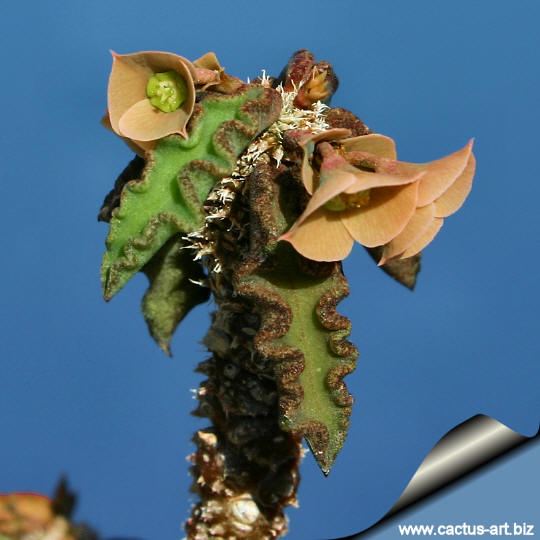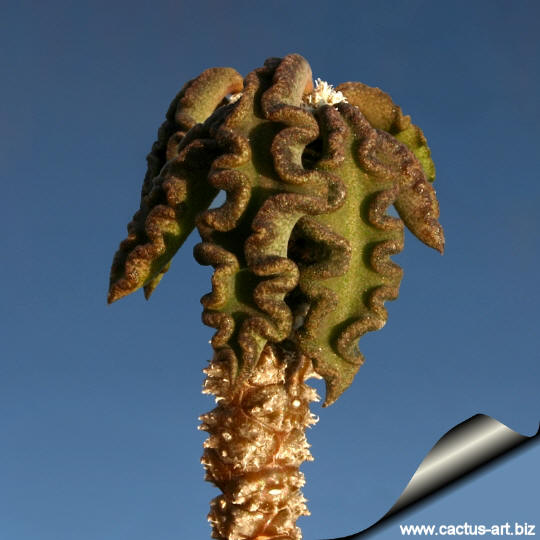 They have characteristic crinkly leaves and are true gems worthy of any collection
Propagation: Seeds or (usually) cuttings: First of all if you remove an offset, you have to wait about two weeks before repotting to let all wounds heal (cuttings planted too soon easily rot before they can grow roots). It is better to wash the cut to remove the latex. Place the cutting in a warm, bright (w/o direct sun) and slightly humid spot, to increase the building of new roots.
Warning: Like all Euphorbia HANDLE WITH CARE, the latex/sap is dangerous and can cause skin rash, itching and general discomfort.