Faucaria tigrina (Locality Grahamston) are very handsome plants with soft white teeth along the edges.
They look like little alligator jaws. In the garden they slowly sucker growing in a circle larger and larger until they come up upon another plant making a unique carpet of plant completely covering the ground.


.

.


Advertising




Family: Mesebrianthemaceae (Aizoaceae)
Scientific name: Faucaria tigrina (Haw.) Schwantes
Origin: South Africa (Eastern Cape Province: Albany))

Common Names include: Tiger Jaws, Shark's Jaws
Etymology: The genus name Faucaria is Latin for "jaws" due to the teeth-like structure on the leaf margins.
Note: Faucaria tigrina is a variable taxon that now comprises many Faucaria's form previously considered independent the species.
Mesembryanthemum tigrinum

Decription: Succulent clump-forming perennial, rosettes, usually stemless (but can builds short woody stems with age). It clumps more than the plants in the 'felina' group and has often a reddish tinge.
Leaves: Thick, green triangular with up to 10 (ten) pointed curved soft translucent slightly recurved "teeth" along the edges, making them look like open jaws: The upper surface is slightly rough with a profusion of tiny white dots upon close inspection and with a rounded interface.
Flowers: Numerous, silky yellow, up to 5 cm wide, attractive daisy like, appearing from the centre of the rosette.
Blooming season: Autumn to early winter. They need full sun to open, open around noon and close at night.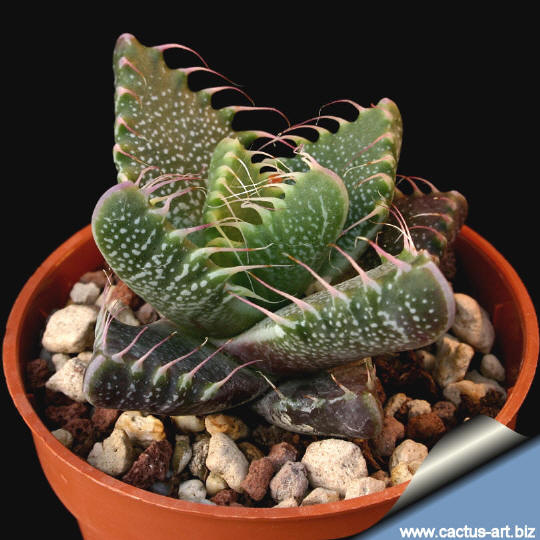 Note: The several species of this South African genus of succulents are so similar that many may be hybrids.
Cultivation: The plants in this genus represent some of the more easily cultivated succulent species ; These plants grow on winter rain and were heading for spring-summer dormancy. Requires little water otherwise their epidermis breaks (resulting in unsightly scars). Water moderately from the middle of summer to the end of winter, and keep the compost almost dry when the plants are dormant. Water minimally in spring and summer, only when the plant starts shrivelling (, but they will generally grow even in summer if given water) In areas prone to frost, grow in an intermediate greenhouse or conservatory, in pots of cactus compost, obtainable from good garden centres. Keep cool and shaded in summer, but provide maximum light the rest of the year.