Description: Geohintonia is a monospecific genus discovered in 1992. It is a strongly ribbed cactus of unique appearance.
Stems: Usually solitary, dark green/brown covered by a glaucous/grey pruina, globose becoming slowly columnar, up to 10 cm or more, 10 cm in diameter with a woolly apex.
Ribs: Numerous (18-20) and well distinct.
Areoles: Large, discrete, at first with long wool, later nearly naked.
Spines: Few, very short (3 to 15 mm), triangular, curved, flatened and corky, soon papery a brittle deciduous. Easily detached from the base.
Flowers: 2 x2-4 cm, rich pink to magenta and open during the day; they are born in on top of the plant. Pericarpel and lower part of the tube naked, white. Upper part of the tube with small acute scale, with densely hairy axil bearing 1 cm long white bristles. Stigma 5-6 mm long, yellowish white.
Blooming season: Flowers intermittently throughout the warm months from spring to autumn.
Fruit: Hidden in apical wool, ovoidal (approx 9x4-5 mm), thin walled, pale, drying and breaking off below the middle.
Seed: Oval, 1,2x0,7 mm, black brown, shiny, relief flat to low-domed. The hilum is large, basal and superficial.

.


Advertising




Family:

Cactaceae

(Cactus Family)

Scientific Name: Geohintonia mexicana Glass & W. A. Fitz Maurice
In: Cact. Suc. Mex. 37(1):16-19 ('1992' , publ.1991) Cact.Succ. j. (U.S) 64: 141-147 (1992)

Origin: Mexico (Nuevo León: Sierra Madre)

Conservation status: Listed in CITES appendix 2.

Habitat: This plant grows on gypsum hills on vertical cliff in the neighbourhood of Rayones. Now this plant is endangered, the wild population of G. mexicana was almost completely wiped out by "collectors".

About taxonomy: The Aztekium Clade (consisting of Aztekium and Geohintonia) represents a relictual, yet highly specialized lineage forming a sister group to the remaining taxa of the tribe Cacteae. It is suggested that Geohintonia may represent an intergeneric hybrid involving Aztekium (probably A. hintonii which is sympatric with Geohintonia ) and possibly Echinocactus horizonthalonius.

Etymology: The generic name "Geohintonia" remembers its discoverer Georges Hinton.
The specific name "mexicana" derives from the state of "Mexico" the land of origin of this plant. (The specific name implies "Mexican")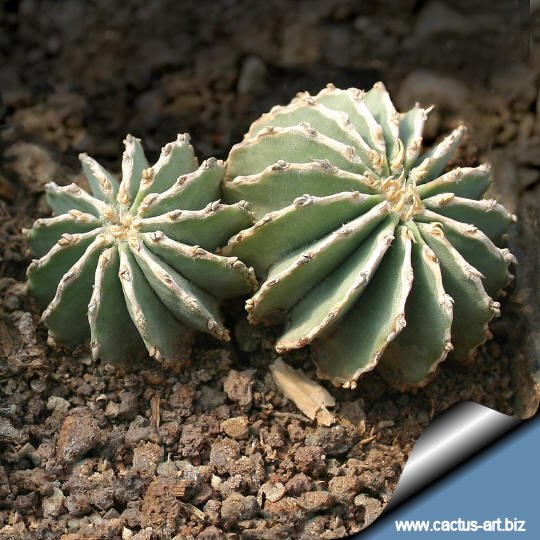 This odd cactus is unmistakable and very distinctive
Cultivation: Although regarded as a choice and difficult plant in cultivation it is relatively easy to grow, but very slow growing. It is often seen as a grafted plant but grows very well on its own roots too. Needs a very well drained mineral substratum with little organic matter (peat, humus). Requires strong sun to part sun to develop good compact growth and waterings should be rather infrequent, to keep the plant flat shaped and not become excessively elongated and unnatural in appearance. Use Water sparingly from March till October and keep perfectly dry in winter, or when night temperatures remain below 10° C (but some people give this plant a light monthly watering to prevent the drying and shedding of the lower tubercles.) It is hardy to -4°C (or less) for a short period. In the rest period no high atmospheric humidity!! Ensure a good ventilation.
Propagation: Almost exclusively by seeds. But the seedlings are tiny and very slow growing (reach 2 cm of diameter in 6/8 years) and require very careful watering, plants need 10 to 15 years to reach the flowering size.
Sometime, older specimens may shoot tillers from under tubercles, so they can be propagated by cuttings in spring (but rooting may prove a challenge). Plants are sometimes grafted onto column-shaped cacti, which is a much easier way of propagation than sowing.

Photo of conspecific taxa, varieties, forms and cultivars of Geojintonia mexicana: