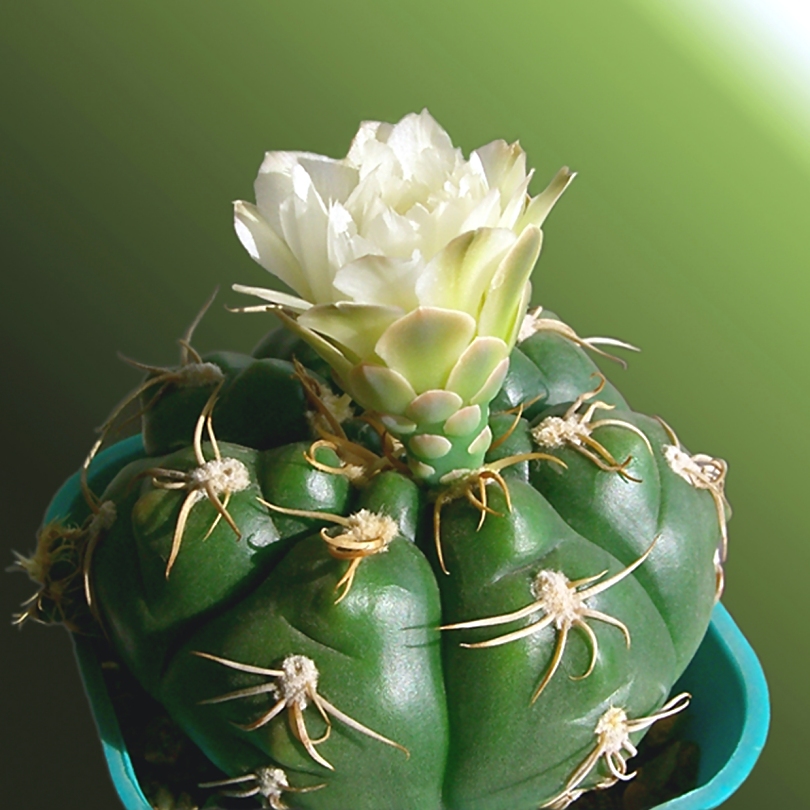 Photo and © copyright by Konstantin V. Korotkov.
(Sergiev Posad, Moscow reg., Russia)
I want to add detail as regards Gymnocalycium denudatum.
In austrian journal "Gymnocalycium" [18 (2) 2005] an article of Hans Till was published, which dedicates to G. megalothelon (the old species epithet "megalotelos" had grammatically invalid ending). This species is very closed to G. denudatum.
Some specialists (G. Frank) even referred G. megalothelon to denudatum-forms group. In given article the author has described a new variety with light-red flower (see photo in this journal on page 622) - G. megalothelon var. susannae. However the collection material that was used by H. Till at description, imported previously from Uruguay by W. Rausch, but not furnished with field number. In due course the information about discovery in wild nature G. denudatum with red flower comed from A. Fric, Mueller-Melchers, L. Horst and other researchers. However the cases in point are single instances. The K. Prestle's controversial variety G. denudatum var. roseiflorum has not at all rose flower, but white with rose tips of petals. H. Till offers to identify this variety as G. megalothelon.
In general, nor one of officially registered populations of red-flowering Gymnocalycium from Schuetz's subgenus Macrosemineum (G. denudatum and G. megalothelon, in particular, pertain to this "large-seed" subgenus) until wasn't known.
Present-day classification for these taxa sensu H. Till looks somewhat strangely:

G. denudatum
subgenus: Microsemineum
section: Microsemineum
subsection: Macrosemineum series: Macrosemineum

G. megalothelon
subgenus: Microsemineum
section: Microsemineum
subsection: Macrosemineum series: Multiflora

P.S. On this subject see also an article about south-Brazilian gimnos in "Kakteen und andere Succulenten" 2002, 53 (2): 29-39 written by well-known German specialists – N. Gerloff and D. Metzing. This article was published in Russian "Kaktus-Klub" 2002, 2:35-44 too.

◄ Here a photo of G. denudatum with half-disclosed flower (max diameter of fully disclosed flower - 7 cm)

Respectfully , Konstantin.