Gymnocalycium erinaceum STO 90-352/2 El Sauce to Rio Pinto, Cordoba, Argentina
(Collector: Helmut Amerhause, Franz Strigl and Hans Till)
Small shiny stem with short brow spines that fade cream-white near the end, It makes for a very handsome appearance. The flowers are white with reddish throat


Description: Small species with solitary or clustering stems, it may clusters when small. This slow-growing plant will eventually form clusters up to 15 cm across.
Stem: Globose-Flattened dark.
green to brownish green glaucous, up to 5 tall and in diameter.
Ribs: About 12.
Areoles: Rounded to elongated with short cream-white wool.
Spines: Short, thin, dense, spider-like, slightly curved which are dark brown as they leave the grey-white areole, and then fade near the end to the same colour as the areole wool.
Central spines: 1-2 up to 10 mm long.
Radial spines: 7-9, straight, one pointed downward, others in pairs pointed to the sides, 6-8 mm long.
Flowers: Bell to funnel-shaped, pure white or white whit a reddish throat, diameter approx 5 cm.
Blooming season: Spring.
Fruit: Spindle shaped, green/bluish up to1,5 cm long and 1,2 cm wide.


Advertising




Family:
Cactaceae (Cactus Family)
Scientific name: Gymnocalycium erinaceum J.G.Lambert 1985
Origin: Córdoba ( Sierra de Tulumba, Sauce Punco) , Argentina, South America.
Conservation status: Listed in CITES appendix 2.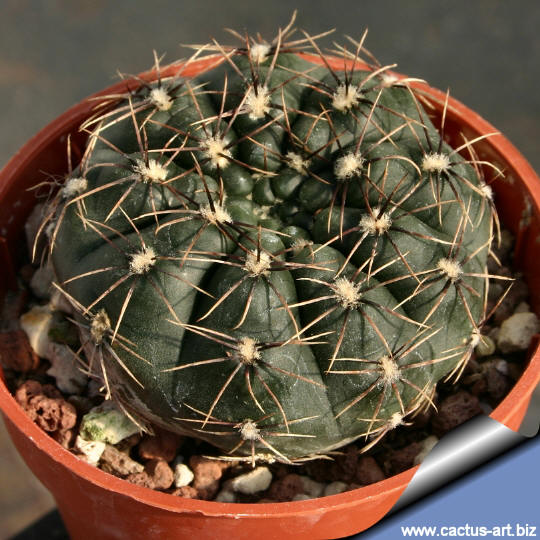 Cultivation: Gymnocalycium erinaceum is one of the most cold-tolerant South American species. It can grow outdoors and is hardy to -12° C or less. Prefer a low pH compost; otherwise growth will stop altogether. The plant tolerates extremely bright situations but enjoys some shade during the hottest part of the day in summer. Water regularly in summer, keep rather dry in winter

Propagation: Seeds, offsets