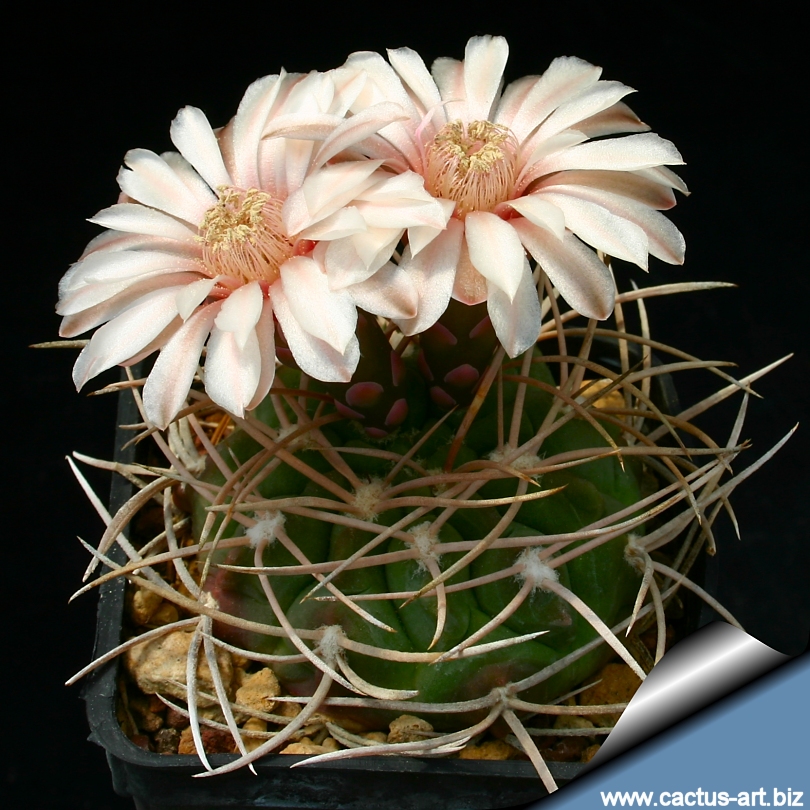 Gymnocalycium guanchinense P226 Cuesta Miranda 1500m
Dark green-reddishbody and robust beautiful flower from June to autumn.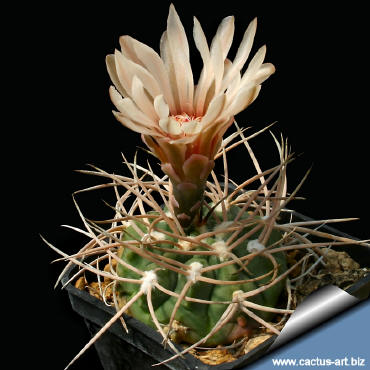 Description: This is a solitary geophytes plant with a swollen underground root system. The plant body has significant chin humps below the large woolly and peculiar areoles. The plants typically got a dark greenish red-violet-brown body colour.
Stem: Up to 15 cm in diameter, dark green to brown flattened with wavy ribs.
Spines: The spines are pale brown extremely curved and long.
Flowers: Near the apex, 70mm in length and 60mm in diameter
Flowering time: Blooms appear recurrently from June to autumn.
Cultivation: It is a summer grower species that offers no cultivation difficulties. Water regularly in summer (but do not overwater ) keep rather dry in winter. Feed with a high potassium fertilizer in summer. It is quite frost resistant if kept dry (hardy to -10° C) Sun Exposure: Light shade.

Propagation: Direct sow after last frost.(seldom produces offsets)


Advertising
Family:
Cactaceae (Cactus Family)
Gymnocalycium guanchinense Schutz 1947
In: Zpravy Ceskoslovenske kaktusarske spolecnosti 2: 21, 1947 = mazanense

Scientific name: Gymnocalycium hossei (F. Haage) A.W.Will


Origin: Argentina (La Rioja)

Conservation status: Listed in CITES appendix 2.
Echinocactus hossii F. Haage
Echinocactus mazanensis Backeb.
Gymnocalycium mazanense (Backeb.) Backeb.
Echinocactus rhodantherus Boed.
Gymnocalycium rhodantherum (Boed.) Backeb.
Gymnocalycium nidulans Fric ex Backeb.
Gymnocalycium weissianum Backeb.
Gymnocalycium guanchinense var. robustius F. Ritter nom. inval.

In:

Katalog H. Winter: 14, 1962
Gymnocalycium guanchinense var. tinogastaense F. Ritter nom. inval.

In:

Kakteen in Suedamerika 2: 477,1980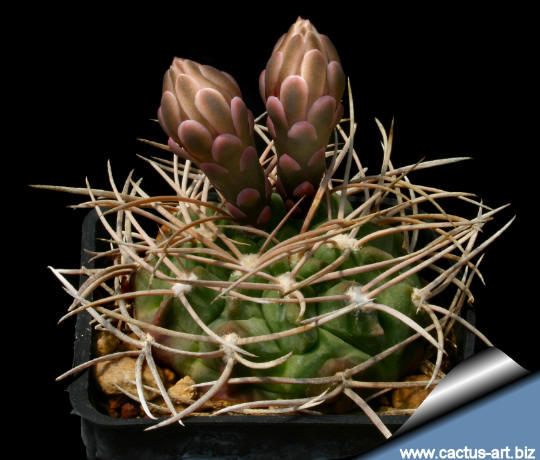 G. guanchinense has been named after habitat, Argentina, Prov. La Rioja, Cuesta Guachin