Family:
Cactaceae (Cactus Family)
Conservation status: Listed in CITES appendix 2.
Scientific name: Gymnocalycium ritterianum Rausch
In: KuaS 23(7): 180-181, 1972

Synonyms:
Gymnocalycium riteranum
Gymnocalycium famatimensis Rausch nom. nud.
Origin: Argentina (La Rioja)
Etymology: Ritter and Rausch are two explorers who played major roles in finding and cataloguing the cacti of South America . With this species, one commemorates the other.

Description: It is a variable small cactus, usually solitary to occasionally clustering.
Stem: Flattened, discoidal 4-4 cm tall, 8-11 cm in diameter, clear grey-green, that tinges reddish in full sun.
Ribs: 10-12, with tranverse furrows, divided in pronounced humped, chin-like tubercles.
Spines: 7-9, up to 2,5 cm long, white, yellow or pink/brown, curved against the plants body, one directed downward , others to the sides
Central spine: None, or sometimes one, straight, rigid, curving backward.
Flowers: Near the apex, up to 6,5 cm long and 7,7 cm in diameter, usually satiny white with rosy to violet throats, but also pure white, pink or red
Blooming season: Flowers appear recurrently from April to autumn.
Fruit: Pear shaped, bluish.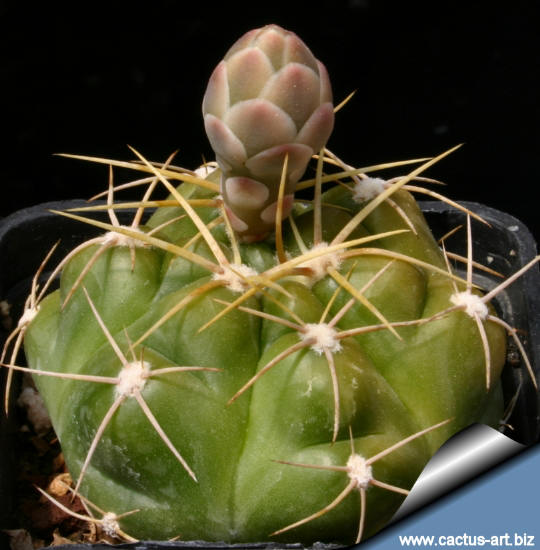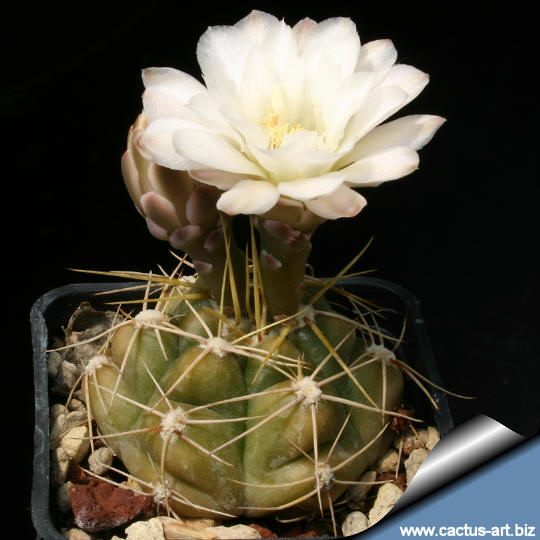 Cultivation: It is a summer grower species that offers no cultivation difficulties. Water regularly in summer (but do not overwater ) Keep this plant almost dry in winter at a minimum temperature of 0°C, prefer relatively rich substrate and low pH compost (if possible not limestone) otherwise growth will stop altogether. Feed with a high potassium fertilizer in summer. It is quite frost resistant if kept dry (hardy to -5° C)
Sun Exposure: Light shade. It may tolerate bright situations but is likely to suffer from sun scorch or stunted growth if over exposed to direct sunlight during the hottest part of the day in summer. This plant needs plenty of space for its roots, repotting should be done every other year or when the it has outgrown its pot. This species is particularly easy and accommodating, seldom suffer of cryptogamic diseases.

Propagation: Direct sow after last frost. (seldom produces offsets)
Seed Collecting: Permit fruit to ripen. Fruit must be significantly overripe before harvesting seed; clean and dry seeds