This is a very quickly offseting and smaller growing form of H. cooperi with round-tipped lovely blue-green translucent-patterned leaves. Very attractive and can be propagated by rooting the offsets.



Strange

spreading stemless

plant that looks like a


small grape cluster and makes fat little colonies.
.


Cultivation: There's no difference in cultivation from usual plants of this type. Though it grows more slowly.
Exposure: Needs light shade to shade.
Watering needs: regular water (They enjoy a little water during winter period too) but do not overwater as they will most likely wind up with root rot, and do not water again until dry! Hardy to to -5°C (or less if dry).
The normal green and totally white offsets should be eliminated.

Propagation: Offsets (New plants are freely produced basally between the leaves)

Advertising




Family:
Asphodelaceae (Aloacee - Liliaceae)
Scientific name: Haworthia obtusa Haw.
Origin: Garden origin (Nursery produced cultivar)
Habitat: South Africa (Eastern Cape Province, north of East London)
Haworthia obtusa Haw. forma truncata H.Jacobsen
Haworthia cooperi Baker var. truncata (H.Jacobsen) M.B.Bayer
Haworthia pilifera Baker
Description: Heavily clumping stemless rosettes, up to 7.5 cm in diameter
Leaves: 20 to 25 per rosette,

s

ucculent soft and glassy (almost transparent)

round-tipped somewhat spherical with lovely blue-green translucent-patterns, leaves become reddish with too much sun or not enough water.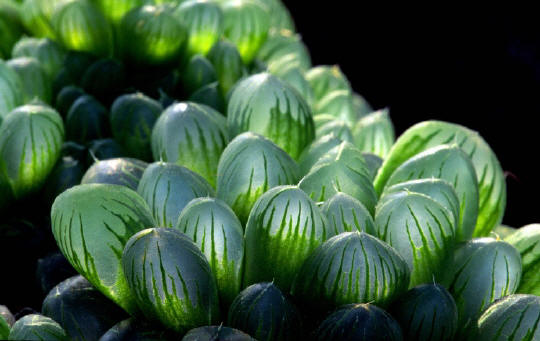 Photo & © copyright by Irwin Lightstone Images may not be copied, downloaded, or used in any way without the expressed, written permission of the photographer.
Haworthia cooperii taken during late afternoon, Canon A2 with Sigma 180mm at arproximately f32, Velvia