Lobivia crassicaulis ( R151a Andalgala - Hualfin, Catamarca, Argentina )
This is a smaller growing species fiercely spined that will slowly cluster from the base.



The body is very dark and bears large flowers reminding one of red velvet cloth.


The spines are short but impressively strong and very showy.

.

.

.


Advertising




Family:
Cactaceae (Cactus Family)
Scientific name: Lobivia crassicaulis R. Kiesling
in: Darwiniana1978
Origin: Northern Argentina, Catamarca, La Estancia.
Conservation status: Listed in CITES appendix 2.
Echinopsis crassicaulis (R. Kiesling) H. Friedrich & Glaetzle 1983
Helianthocereus crassicaulis (R. Kiesling) Backeberg
In: Kakt. Lex.1966 (n.val.pub.)
Lobivia grandiflora v. crassicaulis (Bkbg.) Rausch.comb. nov.
Lobivia andalgalensis Br. & R. non Web.
In: Cactaceae 1922
Trichocereus catamarcensis Ritt.
in: Kakteen 1980/451.
Description: Slow growing species will form large clumps in time.
Stem: Small, up to 15 cm tall and 10 cm broad, very dark green offsetting from the base.
Spines: Short but very strong with a large base: centrals 1 up to 3 cm, radials 6 to 15 up to 2 cm long.
Flowers: Very showy orange or red reminding one of red velvet cloth.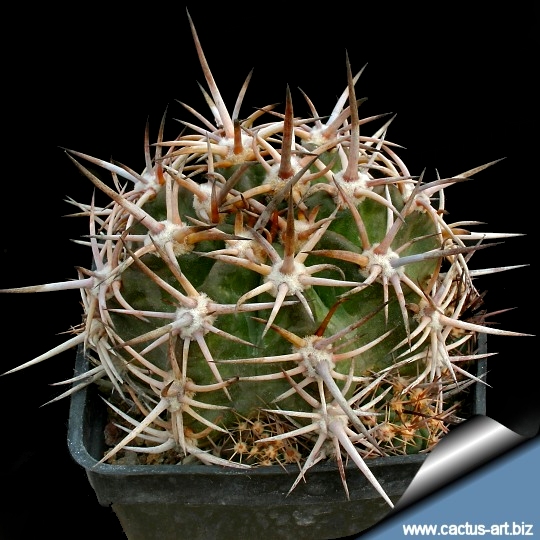 The spines of plants in cultivation are usually weaker because many growers fail to give them a full sun exposure.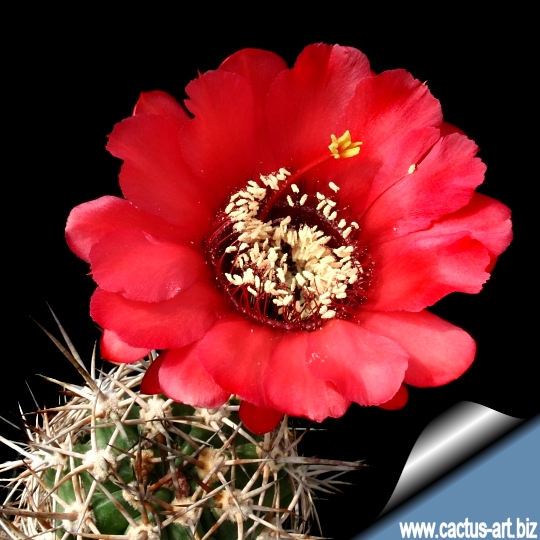 Cultivation: It is a summer grower species that offers no cultivation difficulties. Lobivia crassicaulis has a fairly large tap root, and should be kept in a deep pot with a very draining mineral substrate. Water regularly in summer (but do not overwater ) keep dry in winter. Feed with a high potassium fertilizer in summer. Repot yearly until reaching about 100 mm in size, then every two or three years will suffice. Repotting is best done at the end of winter but can be done at other times. Do not water for a couple of weeks after repotting to reduce risk of root rot via broken roots. Repotting will increase size of stems. It is quite cold tolerant if kept dry (hardy to -12° C). Need a very bright exposure, full sun is indispensable to keep plant compact with strong spines.
Propagation: Direct sow after last frost, grafting or offsets (if available)