Lobivia pugionacantha


Description: Usually simple or rarely basally branched. This species reputedly grows almost completely hidden below the soil (in habitat), and is extremely hard to find unless it is in bloom.
Stem: Globose, dull green, thick and growing mostly underground, but the stem of the plant in cultivation is usually globular or ovoidal and aerial. Dimension: 8-15 cm tall, 4-5 cm in diameter.
Ribs: 16 to 17, straight or spiralled;
Areoles: Oval filled, with grey wool in youth;
Radial spines: 4 to 7 (or more), flatly spreading, yellow to white with black tips, straight, subulate, dagger‑shaped, up to 3 cm (or more) long, though variable from plant to plant.;
Central spines: lacking.
Roots: Long, fat, tuberose taproot.
Flower: diurnal, scented, funnelform, yellow, pink, orange or red, up to 4,5 cm long and in diameter
Fruit: Green, small , globose, semidry and dehiscent.


The ssp. pugionacantha has reddish yellow flowers, 4,5 cm long, and is found in Argentina and Bolivia.
The ssp. rossi has orange to reddish flowers and is endemic to Bolivia.


Advertising




Family:
Cactaceae (Cactus Family)
Scientific name: Echinopsis pugionacantha Rose & Bodeker 1931
Origin: Southern Bolivia, northern Argentina
Synonyms:
Lobivia pugionacantha (Rose & Boed.) Backbg 1935
Echinopsis stollenwerkiana Boedeker 1936
Lobivia culpinensis F. Ritter 196
Lobivia cornuta Rausch 1972
Lobivia salitrensis Rausch 1974
Lobivia versicolor Rausch 1974
Lobivia adpressispina F. Ritter 1980
Lobivia campicola F. Ritter 1980
Echinopsis rossii Boedeker 1933
Lobivia rossii

(Boedeker) Boedeker ex Backeberg & F.M. Knuth 1935

Echinopsis pugionacantha ssp rossi

(Boedeker) G. Navarro 1996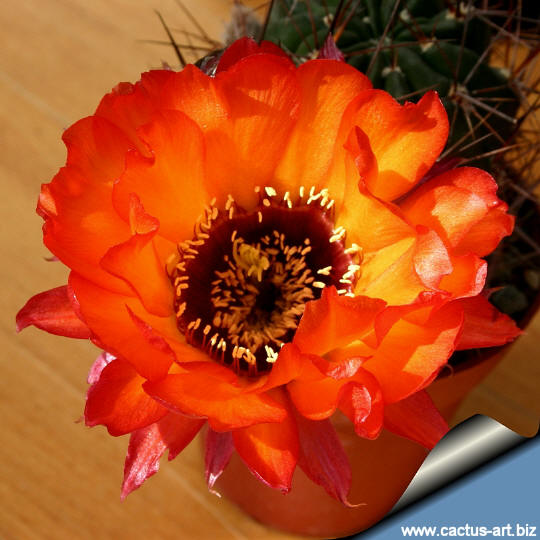 Cultivation: It is a summer-growing species that offers no cultivation difficulties. Water regularly in summer (but do not over-water). It is rot prone, and should be planted in a shallow pot. Like most Echinopsis cultivated for their blossoms, it needs a soil mixture that's a little richer than for the average cactus, still with excellent drainage. Keep rather dry in winter.
It is quite frost resistant if kept dry (hardy to -5°(-18°) C Outside full sun or afternoon shade, inside it needs bright light, and some direct sun.
Propagation: Sow directly after last frost, offsets (if available).
Photo of conspecific taxa, varieties, forms and cultivars of Lobivia (Echinopsis) pugionacantha. (This taxon has lots of synonyms (like most Lobivia), with several controversial varieties and subspecies):