In cultivation it will soon make a showing ball with soft white or golden hairs and cream-white to pink flowers.


Description: Globular cactus, generally solitary.
Stem: Depressed globose, glossy dark green without latex, to 7.5 cm high up to 10 cm in diameter, tuberous basally.
Tubercle: Cylindrical, widely separated,with watery sap, 12 mm. long, 2-3 mm. wide at base.
Spines: Only radials 25 - 30, bristly, flexible hair-like transparent white to yellowish.
Roots: Fat taproot.
Flowers: Bell shaped, 15 - 30 mm long and in diameter the Mammillaria aureilanata var. alba has creamy flowers in winter while the Mammillaria aureilanata var. aureilanata has large pink flowers.
Blooming season: Flowers from February to April.
Fruit: Pinkish-white, club-shaped.
Seeds: Black.



Advertising




Family:
Cactaceae (Cactus Family)
Scientific name: Mammillaria aureilanata Backeb.
Published in:: by Backeberg, Beitr. Sukk. u.-pflege 13 (1938)
Origin: Mexico, State San Luis Potosi, North of San Luis Potosí in a small area in the lower parts of Tezontle hill 1300- 1900 m (Villar, Estación La Ventura, Cerritos, Guadalcázar )
Conservation status: Listed in CITES appendix 2.
Common Names include:
Etymology: The species name "aureilanata" comes from the Latin for 'golden wool'. The variety "alba" has witish to creamy flowers.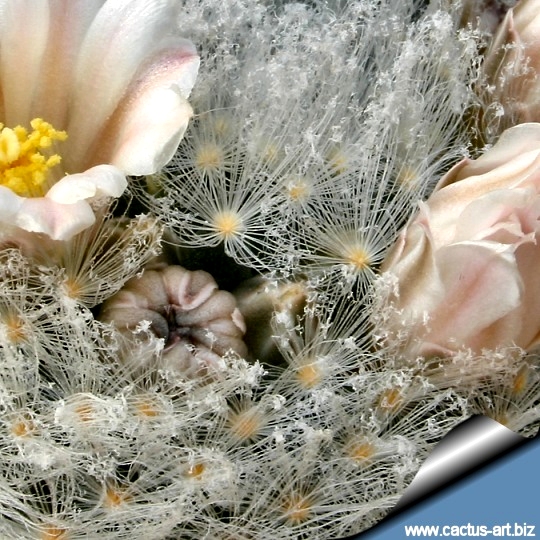 Spines are all radials bristle-like, transparent white to yellowish.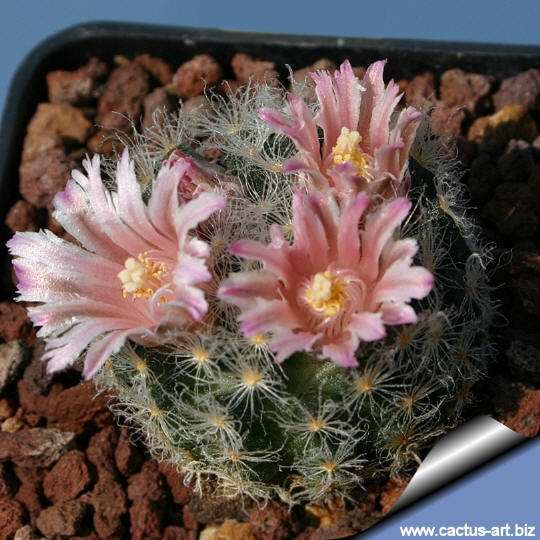 Cultivation: It is a rapid growing species . Water regularly in summer, but do not overwater (Rot prone) It will need a pot with sufficient depth to allow the tap root. with good drainage and a very porous potting media, keep dry in winter. Feed with a high potassium fertilizer in summer. It is quite frost resistant if kept dry (hardy to -5° C) Outside full sun or afternoon shade, inside needs bright light, and some direct sun.

Propagation: Direct sow after last frost. (seldom produces offsets)