Family:
Cactaceae (Cactus Family)
Scientific Name: Mammillaria lindsayi R. T. Craig
In: Cactus and Succulent Jour. (US) 12 (11): 182-183. 1 fig. 1940
Origin: Chihuahua and Sinaloa, Mexico.
Habitat: Grows in partial shade of canyon walls or slopes, in leaf-mould in cracks in the rocks. Altitude around 2.000 m.
Conservation status: Listed in CITES appendix 2.
Mammillaria lindsayi var. cobrensis Repp. ex Hils
In: Mitteilungsbl. AfM 44: 13 (1993: 1994)
Mammillaria lindsayi var. robustior R.T.Craig
In: Mamm. Handb. 88 (1945)
Mammillaria lindsayi var. rubriflora Hils,
Mammillaria standleyi Hunt
Description: Plants solitary or cespitose from base sometime forming very large clumps up to 1 m wide.
Stem: Symmetrically globose, depressed, with apex that often appears completely white, grey green, 12-15 cm high and in diameter. With latex.
Tubercles: Conical to quadrangular, keeled, arranged in numerous, close-set spirals. (Parastichy number 13-21) with dense white axillary wool and up to 8 white, twisted bristles.
Areoles: Oval and with white wool when young.
Radial spine: 10 - 14, white with tan to golden yellow bases, 2 - 8 mm long, upper ones shortest.
Central spine: 2 - 4 , straight, acicular/subulated, rigid, divergent, golden brown, reddish to almost black, the 2-3 uppermost short (approx 4 mm long) long, The lowermost longest 4 - 12 mm long (or more).
Flower: Small, funnelform, 15 - 20 mm long, to 10 mm in diameter, light greenish yellow with orange-yellow midveins, .
Fruit: Club shaped to cylindrical, attractively deep coloured dull pinkish-red to scarlet, up to 20 mm long and 2 - 3 mm wide. .
Seed: Brown.
var. cobrensis is distinguishable from the type for the stem that is always solitary with a very woolly apex. The stem is dark green and it lacks of bristles in the woolly tubercles axil.
var. rubriflora as the name implies it has reddish flower.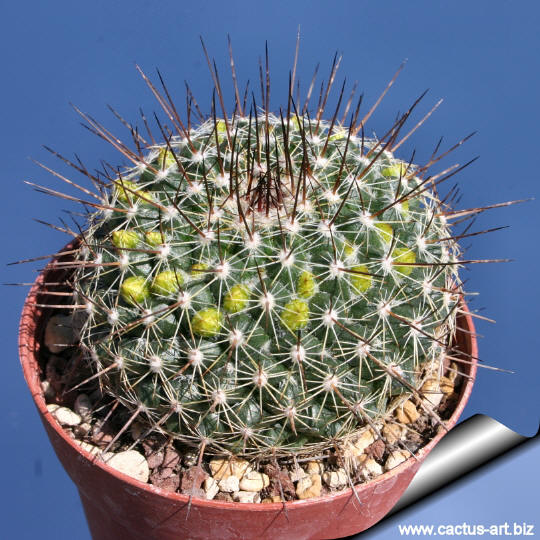 Cultivation: This plant is easy to cultivate but very slow growing. Cultivate it in a well drained and mineral substratum. Water regularly, avoid the use of peat or other humus sources in the potting mixture. It need full sun, so it keep a compact and flat shape. It does not tolerate intense cold, but tolerates some cold if kept dry. Frequent transplantations of the young plants protect the lower part of the stem from the lignification, to which the plant has a tendency.
Reproduction: It is propagated by seed. Sometimes old plants forms large clumps with several joints - but the removal of one of these joints may prove fatal to the plant.