Mammillaria nivosa is one of the wooliest mams with beautiful golden-yellow-spines.


Description: Solitary but usually offsets a lot (mat forming). Old and well developed groups up to 40cm in diameter (or more).
Stem: Globose to short cylindrical, dark green to bronze, 8 - 10 cm in diameter. With latex.
Parastichy: 8 - 13, 11 - 17 and 13 – 21.
Tubercle: Obtusely conical, laterally compressed.
Axil: Densely woolly.
Radial spine: 6 - 13, straight and very sharp bright yellow to dark brown, to 20 mm long.
Central spine: Usually 1, similar to radials.
Flowers: Diurnal 2 cm yellowish. Stigmas yellow.
Blooming season (Europe): Early spring.
Fruit: Club shaped, dark red,
Seed: Brown.




After producing several rounds of blooms earlier in the year it will give strikingly bright red fruit.
This is a really beautiful cactus.


Advertising




Family:
Cactaceae (Cactus Family)
Scientific name: Mammillaria nivosa

First description: by Link ex Pfeiffer 1953
Published in: Enum. Cact. 11 (1837)
Origin: Carribean. (West Indies, Cuba)

Conservation status: Listed in CITES appendix 2.
Common Names include: Woolly Nipple Cactus
Bibliography:
John Pilbeam (1999) - Mammillaria The Cactus File Handbook - page 207.
Edward F. Anderson (2001) - The Cactus Family - page 434.
Cactus flavescens
Mammillaria flavescens
Mammillaria flavescens misapplied
Mammillaria flavescens var nivosa
Mammillaria simplex var. flavescens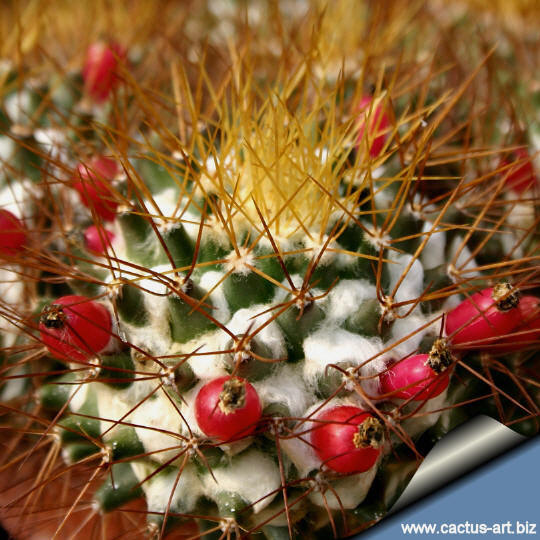 The bright red fruit contains seeds. You can plant these seeds to have small Mammillaria nivosa in the next few months.


Cultivation: It is a relatively rapidly growing and easily flowering species that will make large clumps given the best conditions. Most plants will offset readily, and clumps can be produced in a few years.
Water regularly in summer, but do not overwater (Rot prone) Use pot with good drainage and a very porous potting media, keep dry in winter. Feed with a high potassium fertilizer in summer. Avoid any frost. Reputedly sensitive to low temperatures, but less so if kept on the dry side prior to, and during, cold weather. Outside full sun or afternoon shade, inside it needs bright light, and some direct sun. Tends to bronze in strong light, which encourages flowering and heavy wool and spine production.
Be careful when you repot Mammillaria nivosa. Its spine is very sharp and hard. You should use gloves or wrap the cactus with thick newspaper. They may make it easier.
Propagation: Division, direct sow after last frost.