Photo and © copyright by Andrea B. (Bologna, Italy)
http://www.cactusfriends.com/Andrea/index.html
Mammillaria plumosa has beautiful feathery looking spines that are so soft, it makes it one of the friendliest of all cacti.


Description: Clumping plants form low, dense mounds sometime up to 40 cm wide entirely covered by the mass of white feathery spines.
Stems: Depressed globose or somewhat elongate, without latex, spherical, 4- 7 cm high and in diameter. Light green, but appearing white because of the dense spines.
Tubercles: Small, flattened, 2-4 mm long, somewhat woolly in their axil.
Radial spines: About 40 per areole 1 - 7 mm long, white, weak, interlacing, feathery. The spines in this specie have very long hairs along the spine-axis arranged as are the segments of a bird's feather and that furnish an epidermal protection against the blasting sun of the desert.
Central spines: Absent.
Flowers: Whitish yellow, up to 3-15 mm long (occasionally with pink midstrips), with a strong sweet scent. Perianth segment with a reddish line running down to the centre.
Fruit:
Seeds: Black.






▲Spines
Photo and © copyright by Irwin Lightstone


◄ The blooms are whitish yellow and up to 15 mm long (occasionally with pink midstrips), with astrong sweet scent. Photo and © copyright by Irwin Lightstone





Advertising




Family:
Cactaceae (Cactus Family)
Scientific name: Mammillaria plumosa F.A.C. Weber
Published in: Bois, Dict. Hort. 804 (1898)
Origin: Northeastern Mexico, (Coahuila and Nuevo Leon). Altitude 780 - 1.350 m.
Habitat: Grows clustered together in the fissures of calcareous rock clefts and shingle, over which it stretches and binds together. A beautiful, small, freely
Conservation status: Listed in CITES appendix 2.
Common Name: Feather Cactus, Feather ball, (The Latin name 'plumosa' means 'feathery')
Chilita plumosa Orcutt 1926.
Neomammillaria plumosa Britton & Rose 1923.
Ebnerella plumosa Buxb.1951.
Escobariopsis plumosa Alexander Borissovitch Doweld 2000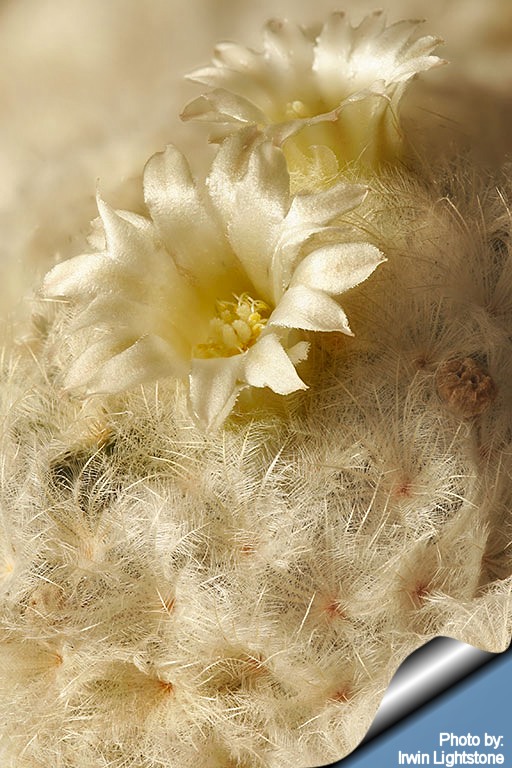 Photo and © copyright by Irwin Lightstone
(http://www.radiantimagesphotography.net )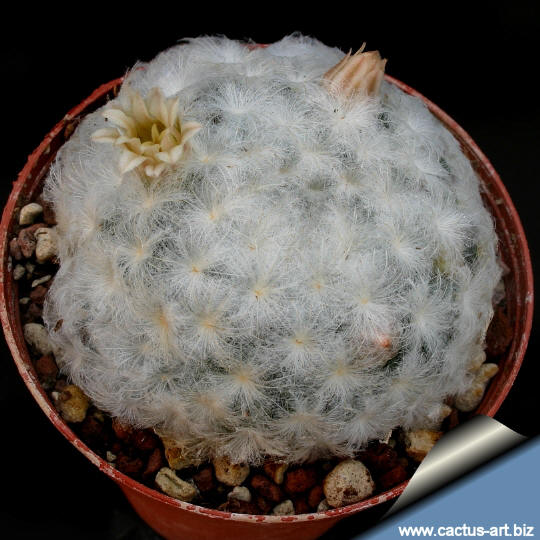 Small, growing clustering species with inoffensive white feather-like spines which cover the plant.

Cultivation: Needs regular water in summer, but for best appearance keep water off of the spines. Do not let the soil become too dry in winter, either. It does better with a good drained soil mix since it is a rot prone species, whose roots are easily lost in pots that stay damp for any length of time. It takes a couple of years to offset, but once it starts it can fill a 25cm pot in just a few years. Propagation: Seeds, offsets (Cuttings root quickly). Needs full sun or light shade in summer.