Photo and © copyright by Renzo Giavina (Italy)
Notocactus herteri is a large growing plant with stunning bright violet-purple flowers.


Description: Notocactus herteri is a large growing plant, usually solitary or slowly branching from the base.
Stem: Almost spherical that can became shortly cylindrical when old, up to 15 cm in diameter and tall with a shiny deep green skin, the apex is depressed, white-grayish and woolly
Ribs: About 22 well defined and spiraling.
Tubercles: Well pronounced, chinned.
Radial spines: 8-11 thin, flexible and acicular up to 20 mm long, whitish with a brownish-red tip.
Central spines: Stouter (20-30 cm long), subulated, brown-reddish, grayish when old.
Areoles: Deeply seated within a depression between the chins, woolly that become bare when older.
Flowers: Apical, pale violet-pink to dark purple, 4 cm long, 4,5/5 cm in diameter with whitish or yellow centers in the spring. Petals lanceolated with somewhat fringed border and a darker midribat the extremity. Filaments and style greenish/yellow, anthers golden yellow, stigma 10 lobed, pinkish with the a white extremity.
Blooming season: July through September.


Photo and © copyright by Renzo Giavina (Italy)


Photo and © copyright by Renzo Giavina (Italy)



Advertising




Family:
Cactaceae (Cactus Family)
Conservation status: Listed in CITES Appendix II
NOTE: This plant has been Transferred to Parodia in 1997 by David Hunt.

Scientific name: Parodia herteri (Werdermann) N.P. Taylor 1987

Basionym : Echinocactus herteri Werdermann 1936
Origin: Brazil, (Rio Grande do Sul) and Uruguay ( Rivera, Artigas, Cerro Galgo)
Habitat: Grows in a a sandy and rocky soil, at low altitude (300-400 m)
Conservation status: Listed in CITES appendix 2.
Etymology: Named after the Germany botanist Dr W.G. Herter .

NOTE: Recently, the genus Notocactus has undergone name changes, and as a result, all Notocactus are now included in the genus Parodia. At this time, it is believed that Notocactus and Parodias have sufficiently similar characteristics that they should be placed in one all-encompassing genus.
Synonyms:
Notocactus rubriflorus
Notocactus pseudoherteri
Echinocactus herteri
Notocactus herteri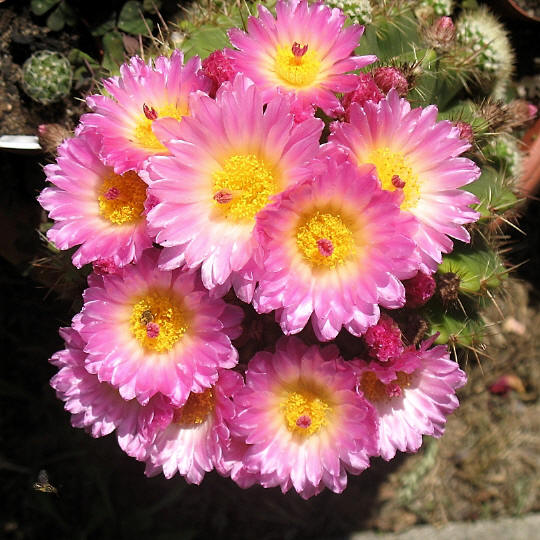 Photo and © copyright by Renzo Giavina (Italy)
Cultivation: Suitable for the home or a greenhouse, During winter's rest period they should be dry and cool, it is frost resistant to -4°C but thrives best with additional heat, they like only a short winter's rest. If the soil is allowed to be dry for too long root loss could follow but equally the same result would occur if the plants are both wet and cold, rot easily if the substrate is wet and cold. Prefers filtered bright light with ample airflow. Will enjoy regular water in summer. Best if watered with rain water, an acid compost and iron feed help to delay the onset of basal corking. A well grown plant is a fresh glossy grass- green, contrasting with reddish spines.
Reproduction: Usually by seeds as it seldom produces offsets.