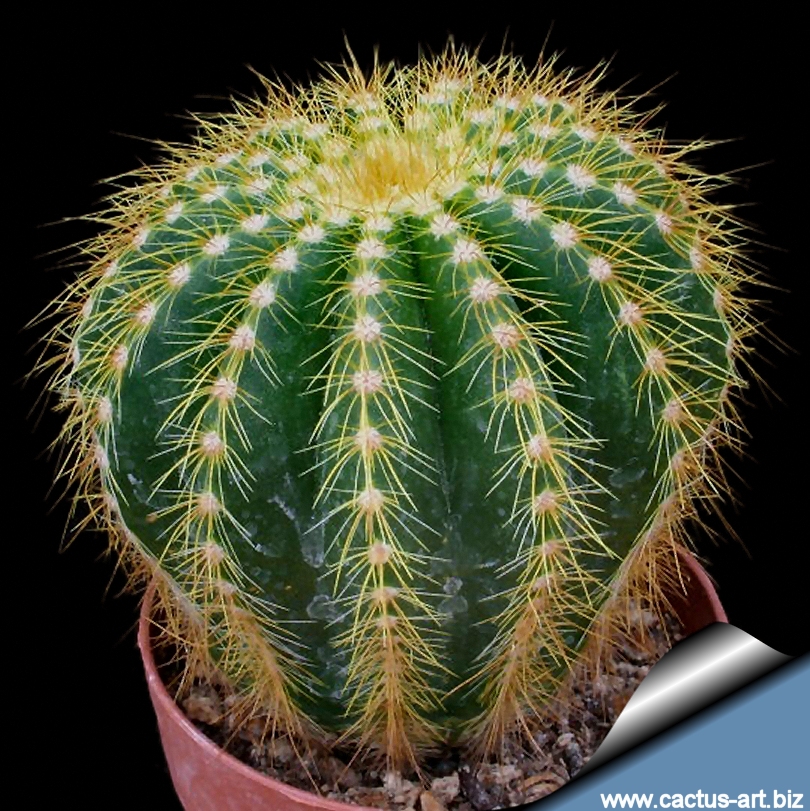 Even after forming clusters, its apex is always tilted toward the sun
Description: N. warasii is a globular cactus usually solitary or slowly clustering related to N. leninghausii and similar to N. magnificus but with green surface. Stems became tall and erect as it ages (up to 60 cm tall, 30 cm in diameter). As typical with most cacti, this plant varies from specimen to specimen and whether it suckers or remains single makes each plant unique and fantastic when it get large growth size.
Spines: golden, short and bristly forming rows down its ribs.
Flowers: large yellow with glossy petals 6 cm in diameter. Blossoms stand near the top and appear during the summer.


Advertising
Family:
Cactaceae (Cactus Family)

Scientific name: Parodia warasii (F. Ritter) F. H. Brandt 1982

Origin: Rio Grande do Sul, Brazil
Conservation status: Listed in CITES appendix 2.
Eriocactus warasii F. Ritter 1973
Notocactus warasii (F.Ritter) T. Hewitt & Donald 1975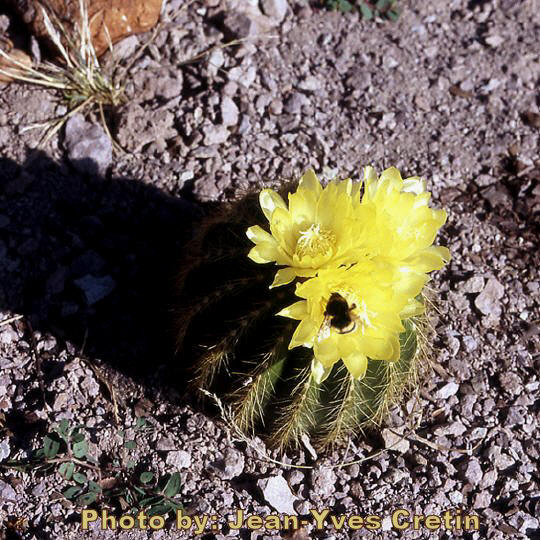 Photo by Jean-Yves Cretin (France): Parodia warasii with a a foraging worker of "Bumble Bee" (Bombus terrestris)

Cultivation: It is easy to grow. They like a warm bright location, does great in partial shade avoid full sun. They need good drainage and prefer a neutral to slightly acidic compost with plenty of extra grit. Water and feed during the summer. Best if watered with rain water. Keep above 0°C and rather dry in winter, rot easily if the substrate is wet and cold, tends to lose its roots in winter.
Propagation: Seeds or cuttings (if available)