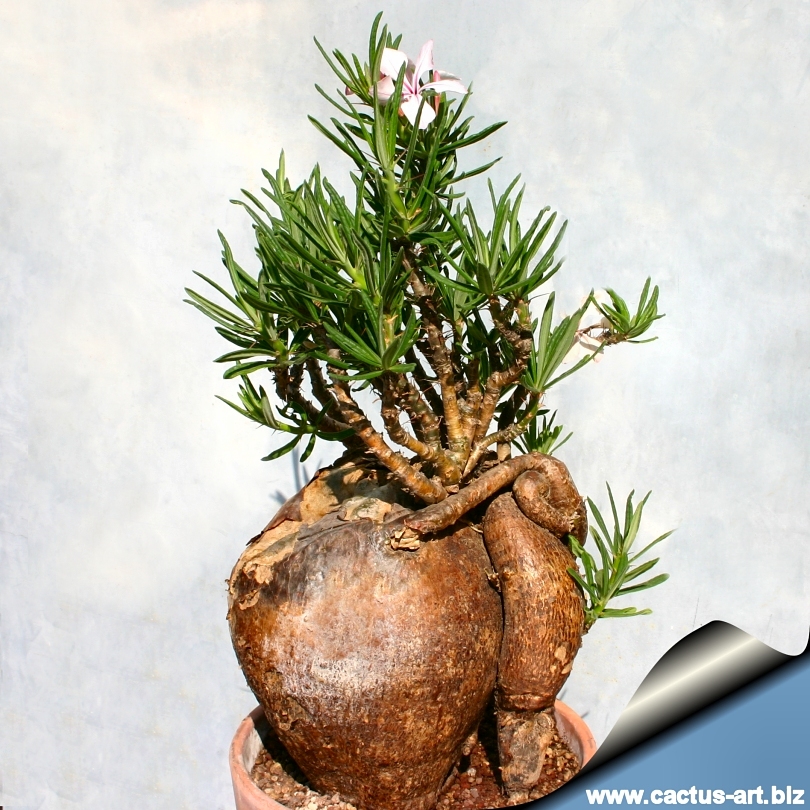 Pachypodium succulentum is an unusual slow-growing caudiciform succulent
and one the most floriferous of all pachypodiums species in cultivation.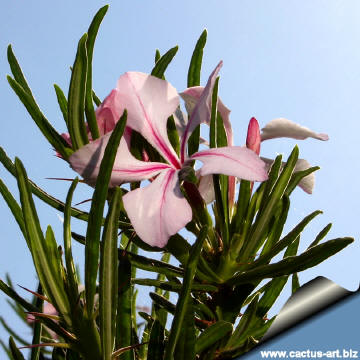 Description: Pachypodium succulentum is a slow-growing caudiciform succulent shrublet with a large half-submerged tuberous stem.
Stem: The stem forms a basal turnip-shaped caudex up to 25 cm in diameter that bears several twisting, usually erect slender branches usually about 15-60 cm long and a few easy to avoid spines. The plant can grow up to 1.5 and 2.5 metres of height.
Leaves: Linear with recurved margins, hairy on both surfaces up to 45 mm long, less than 10 mm wide. they immediatelly distinguish this species from the other broad leaved Pachypodiums, with the exception of Pachypodium bispinosum. This species is not as deciduous than most Pachypodiums, and will generally not lose all its leaves in winter.
Flowers: Crimson, pink, or (rarely) white, with a darker midstripe which appears with the leaves. The corolla tube is is 10-18 mm long with spreading petals 8-10 mm long
Blooming seson: August to December.
Seeds: It produces numerous seeds, although specialised pollinators are required to produce a good seed set.

P. succulentum is a variable species which has been described several times under different names now considered synonyms. The early described P. griquense and P. jasminiflorum are respectively the smallest flowered and the white blooming forms.

Culture: They seem to be particularly prone to rot if allowed to get too wet in winter, or if cultivated under less than ideal conditions and care. Water abundantly in summer and give extra well-drained soil to avoid waterlogged conditions. No water from November to March. The watering program will change, depending on temperatures and stage of growth, but it is best not to let this plant dry out completely for any length of time. It is sensitive to cold, and should be kept totally dry in winter, at or around 4°C. Protect from frost. It tends to lose its leaves and go dormant in winter. It likes full sun to light shade . It develops a great, succulent root system that you could raise up yearly and it would look better and better.
Reproduction: This species is easy to grow from seed or cuttings. It is easy to root from root cuttings. A piece of root is removed, and immediately replanted, with about 1 cm sticking out above the top dressing. Within a few days to a few months, new leaves will start to form at the tip, shortly followed by new branches and a new caudex. Stem cuttings can also be rooted, though with more difficulty.



Advertising
Family: Apocynaceae

subfamily: Apocynoideae tribe: Malouetieae.
Scientific name: Pachypodium succulentum (L. f.) Sweet
Place of publication: Hort. brit. ed. 2:594. 1830
Origin: Origin: Endemic to South Africa.. It is estimated to have an extensive range (over 300,000 km2 ) and it is common or very common in at least parts of its range.
Habitat: It is found in arid places, usually among rocks associated with succulent scrub vegetation at altitudes of 15-685 m . Unlike other South African species of Pachypodium, P. succulentum is resistant to frost and sometime withstand temperatures of -10° C in winter. It is naturally well adapted to the hot and dry environment in which it grow. The succulent stems act as water stores, and enable the plant to survive the harshest conditions. The thick tuberous underground stem also help the plant to survive long periods without water. It can therefore withstand intense heat and long periods of drought.

P. succulentum can be confused with the sympatric P. bispinosum when not flowering. In fact the spiny branches of both sprout from a proportionally huge cauduciform taproot but flowers and flowering times are different, and the two species do not hybridize in habitat.
Conservation status: Listed in CITES appendix 2.

Synonyms:
Pachypodium tuberosum
Pachypodium tomentosum
Pachypodium griquense
Pachypodium jasminiflorum