It is a very nice free blooming succulent.


Growth Habits: Small cushion forming and low growing leaf succulent.
Stem: Very short with only 4 to 8 leaves.
Leaves: (1,5-)3-6(-8) cm long, pale grey to dusty green, fat, succulent , narrowing from a broad base, the upper leaf surface forms a flat and almost equal side triangle. The new leaves appear from within the old leaf pair fissure which gives the impression of the plant having sets of alternate appressed leaves.
Flowers: 3-5 cm wide yellow, with 43-48 petals, 130-140 stamens.
Fruit: With low rims up to 1,2 mm tall.
Seeds: 0,8 mm long x 0,45 mm broad.
Blooming season: Autumn.

Note: S. loeschiana is very similar with S. herrei but it has shorter leaves and is broader and stouter.


Advertising




Family: Mesebrianthemaceae (Aizoaceae)
Scientific name: Schwantesia loeschiana A. Tischer
In: Jahrbuch der Deutcschen Kakteengesellschft 1: 71-72
Origin: Namibia (Lüderitz-South) to South Africa (Namaqualand)
Habitat: Often found growing among quartzite stones.
Etymology: The genus name 'schwantesia' comes from Gustav Schwantes (1881-1960), German professor of prehistory at Kiel University, and Mesemb specialist. (Aizoaceae)
Schwantesia triebneri L. Bolus 1937
Schwantesia herrei var. minor L.Bolus 1958
Schwantesia herrei L.Bolus forma major G.D.Rowley 1973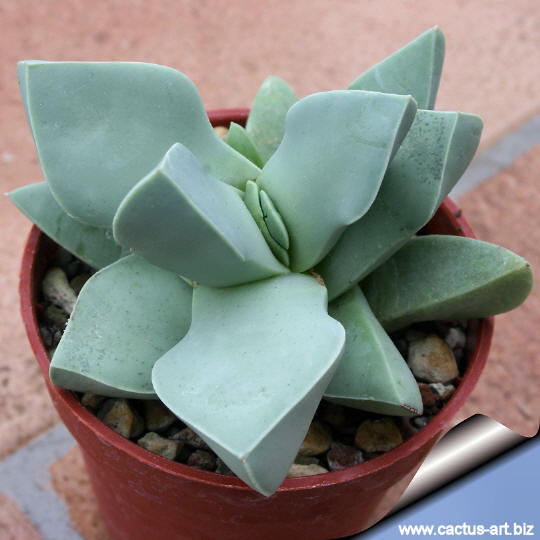 Schwantesia loeschiana Rosh Pina
Cultivation: The Schwantesia is easy to grow. These plants grow in winter rain areas and head for dormancy in summer. Requires little water, otherwise its epidermis breaks (resulting in unsightly scars). Regular water in autumn through to spring. Water minimally in summer, only when the plant starts shrivelling but it will generally grow even in summer if given water. Requires good drainage. Keep cool and shaded in summer, needs full sun or light shade. Hardy to -2°C.
Propagation: Seeds, cuttings.