Stenocereus beneckei (a very white clone ex Prof. Lodi collection)
This species has an eye catching white/silver powdery bloom on the new growth.
But the bloom rubs or washes off easily so the lower parts of the stems
are usually a blue green or even bronze colour in strong light.


Description: Shrubby, semi-prostrate columnar cactus with tuberculate ribs. This plant has an attractive grey white bloom on the new growth.
Stem: Bluish-green or bronze-green up to 2 m long, 4-7 cm in diameter, with a silvery-white waxy end.
Ribs: 5 to 9 tuberculate.
Areoles: Reddish-brown
Spines: 1 to 5 gray spines with reddish end; 1 central, up to 1.6 in. long;
Flowers: Cream colored , 4 cm long or more
Blooming season: Winter, opening during the night and staying open 24 hours.
Fruit: Grayish-brown tuberculate fruit, 5 cm long, 3 cm wide with 8-9 spines per areole, up to 2 cm long.
Seed: Large shiny black.



Cultivation: Stenocereus beneckei is easy to grow but not very cold hardy (Resistant as low as -4°C for a short time).
Sun Exposure: Outside full sun, inside needs bright light, and some direct sun.. Need a fertile, well drained soil mix. In summer water the plants well and allow them to dry before watering again. During winter month, put them in a cool luminous place and encourage them to enter winter dormancy by withholding water and fertiliser over the winter as they will etiolate, or become thin, due to lower levels of light. They are susceptible to fungal diseases if overwatered, but are not nearly as sensitive as many other cacti, especially in warm weather. If kept damp through cold periods, they will invariably suffer.
It produces good amounts of growth each year if kept well fed and watered throughout the warmest months, particularly if it has been acclimatised to accept full sun.

Propagation: Cutting or from seed. The seeds are quite easy to germinate and grow. Their main requirements consist of high humidity levels, free-draining soil mix, and enough water, light, and nutrition.


Advertising




Family:
Cactaceae (Cactus Family)

Scientific name: Stenocereus beneckei (Ehrenberg) A. Berger & F. Buxbaum. Published in: Botanische Studien 12: 99, 1961
Origin: Origin: Central Mexico
Habitat: Grows on the sunniest parts of rocky cliffs.
Conservation status: Listed in CITES appendix 2.
Piptanthocereus beneckei
Cereus farinosus
Rathbunia beneckei
Lemaireocereus beneckei
Hertrichocereus beneckei
Cereus beneckei
Cereus beneckei var. farinosus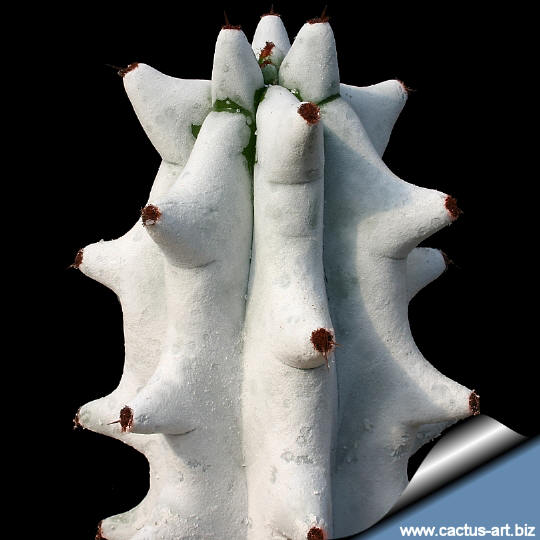 Be aware!!! Don't touch and don't sprinkle the beautiful
white bloom… ....it rubs off very easily.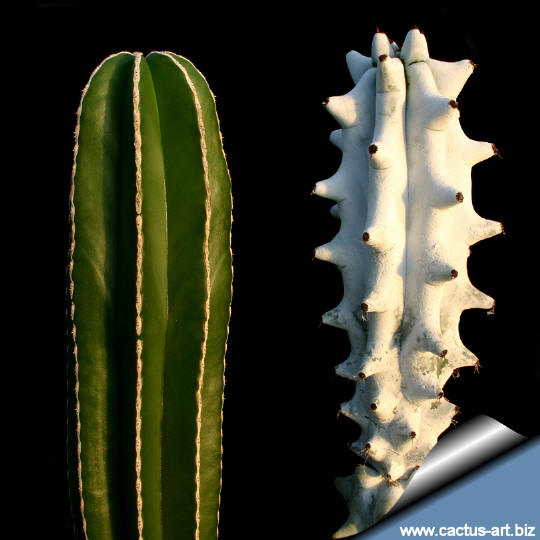 Stenocereus marginatus and beneckei