Thelocactus garciae
Type locality: Municipio de Bustamante, Tamaulipas, Mexico

Description: Solitary or occasionally scarcely cespitose.
Stem: Pale green bronzing to dull purple red in sun and cold, 12 cm in diameter, 7.5 cm high.
Ribs: completely divided into tubercles arranged in 8 and 13 spirals, about 15 mm high and 15 mm wide at base.
Areoles: Slightly below the tip on the outer side of rounded tubercle, the floriferous portion is a narrow extension approximately 3 or 4 mm long on the inner side of the tubercle tip.
Radial spines: Of two types, 7 heavy acicular in lower half of areole, spreading, radiating, and 7 in the upper half, fine acicular, almost bristle-like.
Central spines: 4, lowest about 60 mm long, ca. 2 mm wide near base somewhat down-curving, dull grey tipped brownish. Lateral centrals spreading-ascending variably 30-50 mm long.
Flowers: 30-40 mm in diameter, 30-35 mm long palest translucent shiny pink, with darker pink mid stripe, darker and broader towards the base, rarely almost pale translucent creamy white, even on same plants as pale rose flowers. Anthers bright yellow.
Flowering time: December through February (or spring)
Fruit: Elongating at maturity to 20 mm long, ca. 13 mm wide, purplish red fading to yellowish towards the base, with small, triangular scales.


Flowers are translucent shiny pink, with darker pink mid stripe, darker and broader towards the base with bright yellow anthers.

Photo of conspecific taxa, varieties, forms and cultivars of (Thelocactus conothelos complexcomplex):


Advertising




Family: Cactaceae (Cactus Family)
Scientific Name (Basionym) : Thelocactus garciae Glass & Mendoza
Published in: Ident. Guide Threatened Cacti of Mexico 1: TH/GA (1997)

Holotype: JAG 383, Tamaulipas, Municipio de Bustamante; deposited in the CANTE herbarium n° 456.
Conservation status: Listed in CITES Appendix II

Synonyms:
Thelocactus conothelos subsp. garciae (Glass & Mendoza) Mosco & Zanovello,
Published in: Bradleya 18: 63, 2000
Torreycactus conothele subsp. garciae (Glass & Mendoza) Doweld 2000
Origin: Restricted to one locality in Tamaulipas (comes from the vicinity of Bustamante where it was found by the Lausser couple)

Note: This plant is similar to both T. conothele and T. tulensis. It differs from the members of the T. conothele complex by its darker green, bronzing, more prominent tubercles and different spination and distinct flower color of shiny pink with darker mid-stripe. It differs from members of the T. tulensis complex by its greener stem color, and radial spine count of 14 as compared to 6-7 for T. tulensis, 7-8 for T. buekii and 7 for T. matudae, and by the flower colour, pink and white striped to yellow for T. tulensis and purplish red or reddish purple for T. buekii and T. matudae.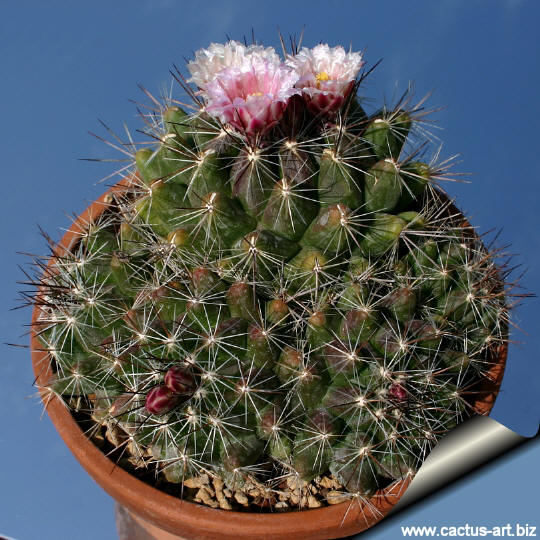 Cultivation: Easy to cultivate. Water moderately from Spring to Autumn. Keep dry in winter, can tolerate frequent moderate frost, above approx -7C, Sun Summer grower needs full sun exposures.

Reproduction: Nearly always from seed, since the plant rarely produces plantlets.