Agave utahensis var. nevadensis
Nevada Agave is certainly one of the most ornamental of all the Agaves. It is also one of the most cold hardy species, especially if kept dry. Makes an excellent potted specimen.


Description: Agave utahensis var. nevadensis is one of the smallest species of Agave. It is extremely ornamental with small blue-green, symmetrical rosettes and long, harmless terminal grass-like spines. Slowly growing up to 15-30 cm tall, 25-30(-60) cm spread. This is the smallest and most cold hardy variety of A. hutaensis. In contrast to other subspecies it has broader, bluish green leaves with strong marginal teeth, It suckers slowly and the suckers tend to be adhered to the mother plant, eventually forming a large matt of spines where you can't tell which leaf belongs to which plant.
Leaves: 15–25 × 1.5–3 cm; pale blue-green, linear-laceolate, straight or falcate, spiked, stiff, convex below, plane or concave above, ending in a soft, grass-like spine whitish to brown, slender, 4–8 cm long (split usually). The leaves have heavily toothed margins, the teeth are prominent 4–6 mm long (not very sharp, though).
Flowers: Light yellow, bulbous flower clusters arise along the stem on short 2-2,5 stalks. The rosette dies after flowering. The inflorescence varies in style from plant to pant. It may be a spike, a raceme, or a panicle 2–4 m.
Blooming season: Late winter early summer.
Fruit: Capsules 2-3cm long.
Seeds: Black
2n = 60.


Cultivation: Agave uthaeinsis var. nevadensis is a very cold hardy form of the species. It is theoretically hardy to -18°C (or more) particularly when dry. It is a relative easy-to-grow species. Need a very well-drained, soil. It grows fairly fast in summer if provided with copious water but allows to dry thoroughly before watering again. During the winter months, one should only water enough to keep the leaves from shrivelling. They do well in full sun or a lightly shaded area. Plants cultivated outdoors are drought tolerant and takes blasting heat and full sun. It is a wonderful companion plant for Echinocereus and Escobaria cacti species. During the beautiful season it's good to enrich the soil using a fertilizer rich in potassium and phosphorous, but poor in nitrogen, because this chemical element doesn't help the development of succulent plants, making them too soft and full of water.
This stylish succulent has long been highlighted in gardening magazines and television shows. They are great used as feature plants in Mediterranean and modern style landscapes, pots and containers, rockeries, embankments and tropical style gardens.


Advertising




Family: Agavaceae
Scientific name: Agave utahensis Engelm. var. nevadensis Engelm. ex Greenm. & Roush
In: Ann. Missouri Bot. Gard. 16: 390, plate 32. 1929.

Origin: USA (California, Nevada)
Habitat: It is native of dryish, stony calcareous outcrops, slopes and ridges in mountainous areas and canyons, to the east of the Mojave Desert with desert scrub; 1200-1900 m;
Conservation status: Listed in CITES appendix 2.
Common Names include: Nevada Agave, Clark Mountain Agave, Dwarf Agave, Yant, Ivory-spined Agave, American Aloe (it is not an aloe), Pygmy Agave.
Agave nevadensis (Engelmann ex Greenman & Roush)
Agave utahensis subsp. utahensis
Agave newberryi
Agave eborispina
Agave utahensis var. discretahartmanii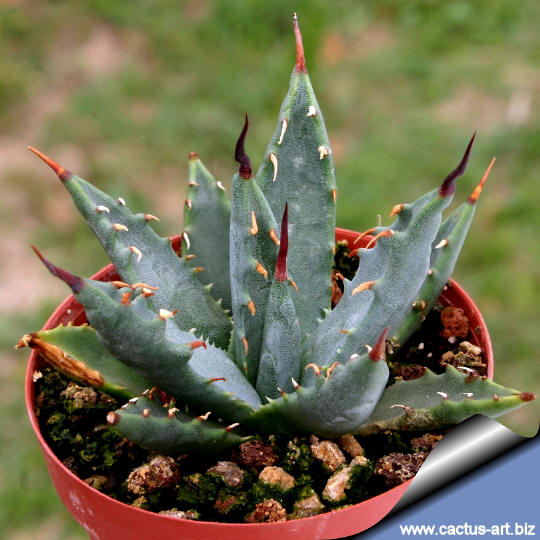 Plants may be hardy outdoors in Central Europe with some protection from moisture.
Propagation: Suckers or seed.
SUCKERS: Remove the basal suckers (if available) in spring or summer and let the cuttings dry for a few days before inserting in compost.
SEEDS: Sow at any time of year in a well-aerated compost at a temperatures of 22-24°C . Stand the pots in water, moisten thoroughly and drain. Scatter and press lightly the seed onto the top of the compost. But do not cover the small seeds with compost. Secure a polythene bag around the pot or cover the container with glass or and place in a warm shaded place. If possible, germinate in a propagator.
Some seedlings may appear within a week or 10 days others will take longer. At lower temperatures, germination usually takes considerably longer. Once germination has taken place, remove gradually the glass or plastic and move into a good light but not in direct sun. If the young plants are exposed to too much sun, or the compost dries out, they may stop growing and often turn red; once they stop, it is often difficult to persuade them to start growing again. Never let the pots dry out-but don't saturate them either. A sodden compost is as harmful as a dry one.
TRADITIONAL USES:
The plant was used for food by local Native American peoples. Seed may be ground into flour. Flower stalk, roasted, & the Root cooked. The heart of the plant, which is partly below ground, is very rich in saccharine matter and can be eaten when baked. It is sweet and delicious and can be dried for future use or soaked in water to produce a flavourful beverage. Sap from the cut flowering stems is used as syrup. The sap can also be tapped by boring a hole into the middle of the plant at the base of the flowering stem. It can also be fermented into 'Mescal', a very potent alcoholic drink!

It has very good fibres which withstand hard wear and are water-resistant, that are used mainly in brush making, but they are occasionally used for textiles (can be spun, or made into rope)