This is the most attractive member of the genus, a densely spiny silvery columns with strip-like leaves.


Description: The Didiera Madagascariensis is a spiny, succulent thorn-bush tree which can reach 4 to 6 meters. These hardy drought-resistant plants appear as a spine-encrusted mass of branches.
Leaves: Greyish-green strip-like and deciduous.

Remarks: This plant is an example of convergent evolution. In fact both New World cacti, African Euphorbias and the Madagascar Didiera madagascariensis appear similar in appearance, being succulent, spiny, water-storing, and adapted to desert conditions. However, they are classified in separate and distinct families, sharing characteristics that have evolved independently in response to similar environmental challenges, and hence this is a typical case of convergence.



These hardy drought-resistant plants appear as a spine-encrusted mass of branches,
and not surprisingly it has been named the 'octopus tree'.

Cultivation: This plant can take a good deal of water during active growth and should be watered only when not dormant. Keep dryish in winter. This plant should be overwintered in the greenhouse at temperatures over 12°C (avoid to let temperatures to drop lower than 5° C) Use a very draining but rich soil, and not too much sun.

Reproduction: Can be reproduced both by seeds or grafting it on Allaudia procera. The seedlings look like pine seedlings (stem, tiny bunch of leaves).


Advertising




Family: Didieraceae

Scientific name: Didiera madagascariensis Baill 1880.
Origin: South Madagascar (also known as the 'spiny desert')

Habitat: The thorny forests of octopus trees (Didiera madagascariensis) are localized mainly on sandy dunes. This is one of Madagascar's most bizarre landscapes and is dominated by an entanglement of cactus like thorny succulents, shrubs and trees. i.e. Alluaudia procera, Pachypodium geay, Delonix adansonioides, Euphorbia stenoclada, Adansonia za and Adansonia fony (boabab). The climate is semi-arid or sub-arid with 340 to 580 mm of year rainfall and with 8-10 (or more) dry month. Altitude approx 200-300 m.
Conservation status: Listed in CITES appendix 2.
Common Names include: "octopus tree"
Synonyms:
Alluaudiopsis marnieriana
Didierea mirabilis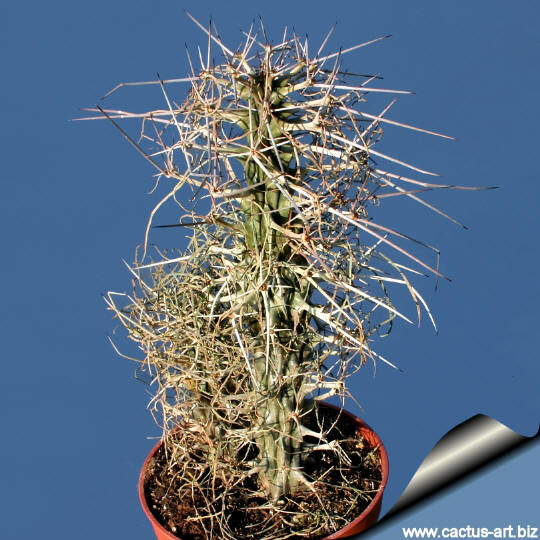 Didiera madascariensis (Leaf-less during the winter dormancy phase)