Echinopsis melanopotamica (P98 Puellches, Argentina, 400m)
This is a very nice, harder to find Echinopsis which is in the Easter Lily cactus family.
It has very strong spines and produces white flowers about 15 cm in length.


.

Cultivation: The Echinopsis melanopotamicus is a summer grower species that offers no cultivation difficulties. Water regularly in summer (but do not overwater ) needs good drainage and very porous soil, keep rather dry in winter. Feed with a high potassium fertilizer in summer. It is quite frost resistant if kept dry (hardy to -10° C). Need a bright exposure, full sun or half shade in summer.

Propagation: Direct sow after last frost, offsets.


Advertising




Family:
Cactaceae (Cactus Family)
Echinopsis melanopotamica Speg.
In: Anal. Mus. Nac. Buenos Aires, 3: 492, 1905
Accepted Scientific Name: Echinopsis leucantha (Gillies) Walpers
In: Repert. Bot. 2:324. 1843
Conservation status: Listed in CITES appendix 2.
Origin: Western and southern Argentina

Synonyms:
Echinocactus leucanthus Gillies in Salm-Dick
In: Hort. Dyck. 341. 1834
Cereus incurvispins Otto and Dietrich
In: Allg.Gartenz. 3-244. 1835
Cereus leucanthus Pfeiffer
In: Enum. Cact. 71. 1837
Echinonyctanthus leucanthus Lemaire
In: Cact. Gen. Nov. Sp. 85. 1839
Echinopsis campylacantha Pfeiffer in Pfeiffer and Otto
In: Abbild.Beschr. 1:under pl. 4. 1839
Echinopsis salpigophora Lemaire in Salm-Dick
In: Cact. Hort. Dyck. 1849. 181. 1850
Echinopsis polyacantha Monville in Labouret
In: Monogr. Cact. 302. 1853
Echinopsis campylacantha leucantha Monville in Labouret
In: Monogr. Cact. 305. 1853
Echinopsis campylacantha stylodes Monville in Labouret
In: Monogr. Cact. 305. 1853
Echinopsis symplex Niedt
In: Allg. Gartenz. 25:237. 1857
Echinopsis leucantha Schum.
Echinopsis intricatissima Spegazzini 1905
Echinopsis spegazziniana Britton & Rose 1922
Echinopsis cordobensis Spegazzini 1905
Echinopsis shaferi Britton & Rose 1922
Description: Plants solitary for a while but eventually may form clumps.
It is related both with E. rhodotricha and E. ferox. But it is easily recognizable for its cylindrical stem and upper spines bent over the plant apex. Echinopsis melanopotamica which comes from the Rio Negro region in Southern Argentina represent the southern form of the species.
Stem: Globose to oblong, 25-100(130) cm tall.15-25 cm in diameter. Very dark green sometime greyish or purplish.
Ribs: 12-14, obtuse, somewhat compressed up to 1,5 cm tall.
Areoles: Close together, oblong.
Radial spines: About 6-8, orangish-yellow to dark brown, subulate, rigid, with a bulbous base, more or less curved, 1-2 cm long.
Central spines: 1 strong, curved, elongated, usually 3 cm long (but often up to 10 cm long)
Flowers: Funnel-form, up to 16 (or more) cm long, 10 cm in diameter, the tube about 3 cm broad at the mouth, dark brown, with scattered areoles bearing small tufts of brown hairs. Outer perianth segments brownish, spreading, 2 cm long, with an acute scarious tip. Inner perianth segment in about 3 series, spreading, the outer purplish, the inner ones white, oblong, acute approx 3 cm long. Filaments many of unequal length, the series at the mouth of the flower-tube erect up to 1,5 cm long. Stigma lobes numerous creamy-white to green.
Fruit: Orangish, dehiscent, pulp white.
Seeds: Black, up to 1,5 cm in diameter.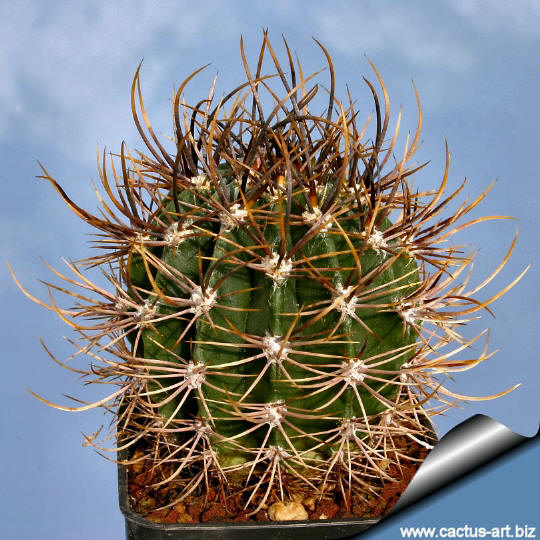 Spines are orangish-yellow to dark brown, strong, subulate, rigid, with a bulbous base, more or less curved toward the plants apex.