Gasterhawothia "ROSAVA"
Spectacular hybrid plant with beautiful colouring. Uncommon fat, smooth dark-green leaves spotted by contrasting raised pebbled-white dots.


Gasteraworthia: Gasteraworthias are horticultural crosses between Gasteria and Haworthia. These bigeneric hybrids are usually diploids and have been received the status of new genus. The shapes and sizes of these plants are quite variable due to the hybrid origin and usually halfway between the two parents. Most of them have dark green spotted leaves. They are strong and easy to grow.
Flowers: The flowers of the genus Gasteria are hanging, tubular, red and yellow and are pollinated by birds, while those of the genus Haworthia are smaller, erect, oblique-limbed whitish and are often pollinated by bees.
The flowers of Gasterhaworthias shows intermediate features, but unlikely to suit either pollinator.




.


Advertising




Family:
Asphodelaceae
Scientific name: x Gasterhaworthia cv. ROSAVA
Origin: Garden origin (Nursery produced cultivar)

Description: Gasterhawortia cv. ROSAVA This is one of the nicest and adaptable cultivars characterized by short dark-green leaves spotted by contrasting raised pebbled-white dots. The leaves are thick, smooth, toothless (or with very short marginal indentation in adult specimens) . The rosettes are medium-sized and compact. It grows relatively slowly, can get quite large with time with rosettes up to 20 cm across. The Gasteria and Haworthia species used in this hybrid are unknown.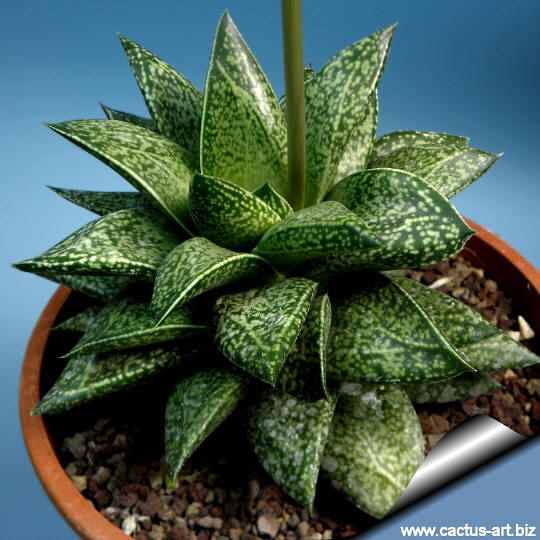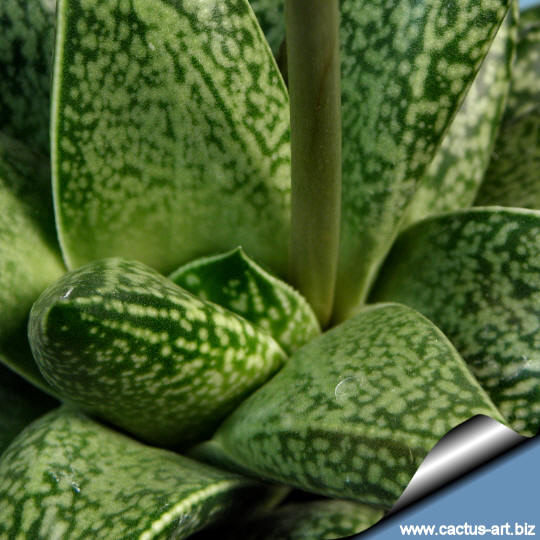 Cultivation: They are slow growing but long-lived plants of easy culture which makes them a good houseplant and can be an excellent subject for the beginning gasteriaphile (it can grow easily on window sills, verandas and in miniature succulent gardens where they are happy to share their habitat with other smaller succulent plants) Need light shade to shade, but will take full sun part of the day. They a prefer a very porous potting mix to increase drainage. During the hot summer months, the soil should be kept moist but not overly wet. The plants are fertilized only once during the growing season with a balanced fertilizer diluted to ½ the recommended strength. During the winter months, water only when the soil becomes completely dry. Frost hardy to -1°C (Or less).
Propagation: Gasterhawothia "ROSAVA" is propagated by the removal of offshoots or by leaf cuttings in spring or summer. To propagate by leaf cuttings, remove a leaf and let it lie for about one month (e.g. in a cool window sill), giving the wound time to heal. Then lay the leaf on its side with the basal part buried in the soil. This leaf should root within a month or two, and small plants will form at the leaf base. Young plants can be harvested the following season.