M. mammillaris along with M. colombiana is one of only two South American species. The fruit are edible.


Description: Fairly slow growing and usually solitary or forming clumps.
Stem: Globose to short cylindrical, light to dark green, shiny, 8 to 20 cm in diameter. With latex.
Tubercles: Tubercules in spiralled rows, ovoidal to conical up to 1 cm tall, parastichy number 8-13,
Axil: with no or few wool in the axil.
Areoles: Rounded with abundant white wool especially the younger one..
Radial spine: Spreading, 6 - 16, yellowish-white to reddish brown, becoming grey with age, 5 - 8 mm long.
Central spine: 3 - 5, reddish brown, with dark tips, later grey, 7 - 8 mm long, uppermost longest.
Flower: Diurnal, very small, inconspicuous, almost concealed among the tubercles, funnelform, white, greenish, yellowish or creamy white, 5 - 12 mm long.
Fruit: Club shaped, scarlet-red, 10 - 20 mm long, edible.
Seed: Small, brown, rough.
Blooming season (Europe): Late summer.


.


Advertising




Family:
Cactaceae (Cactus Family)
Scientific name: Mammillaria mammillaris (L.) Karsten

First description: by Link ex Pfeiffer 1953
Published in: Enum. Cact. 11 (1837)
Origin: Coast of Venezuela and and the adjacent islands (West Indies, Lesser Antilles, Trinidad, Tobago, Curasao and neighboring islands of the Netherlands Antilles)
Habitat: It is found in costal and mountainous regions at medium altitude (up to 1.500 m) and do not tolerate frost.

Conservation status: Listed in CITES appendix 2.
Common Names include: Woolly Nipple Cactus
Cactus mammillaris Linnaeus
In: Sp. Pl. 1: 466 1753 (First description)
Mammillaria simplex Haworth
Syn. PI. Succ. 177. 1812 (Illegittimate name)
Mammillaria pseudosimplex Haage & Backeberg 1961
(Not validly pubblished)
Neomammillaria mammillaris
M. mammillaris is the type species of the genus Mammillaria, which itself is the type genus of the tribe Cactaceae of the subfamily Cactoideae of the Cactaceae.
In fact all cacti should be named "Mammilariaceae", but the name Cactaceae has been conserved (Nomen conservandum).
The generic name Mammillaria is also a nomen conservandum, on one hand against Linné's genus cactus, on the other hand, against an earlier homonym, the algae species Mammillaria.
Linneé's genus Cactus was soon given up, because it included too many species unrelated to each other.
Etymology: The name derives from Latin "mammilla" meaning nipple, referring to tubercles that are one the plant specific features.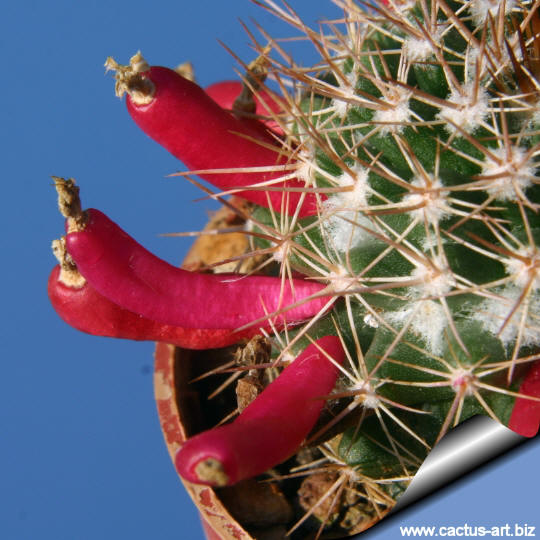 The bright red fruit contains seeds. You can plant these seeds to have small Mammillaria mammillaris in the next few months.

Cultivation: It is a relatively slow growing species.
Water regularly in summer, but do not overwater (Rot prone) Use pot with good drainage and a very porous potting media, keep dry in winter. Feed with a high potassium fertilizer in summer.
Avoid any frost (Said to be one of the least cold tolerant members of the genus). Reputedly sensitive to low temperatures, but less so if kept on the dry side prior to, and during, cold weather.
Seems to appreciate somewhat weaker light than most mammillarias, and it will take on a reddish colour in bright light, which encourages flowering and heavy wool and spine production.. Outside full sun or afternoon shade inside it needs bright light, and some direct sun.
Be careful when you repot Mammillaria mammillaris. Its spine is sharp and hard. You should use gloves or wrap the cactus with thick newspaper. They may make it easier.
Propagation: , Direct sow after last frost or division of larger clups.