Mammillaria slevinii
An eye-catching plant, but not the easiest species to grow.
Should be carefully watered, especially in light of its small root system.


Description: Clustering cylindrical cactus with spines nearly obscuring the stem
Stem: Columnar, pale green, up to 20 cm tall, 6 cm in diameter branching basally
Tubercles: Broadly conical, without latex
Axil: Woolly, dense wool in the flowering zone and a few bristles, white with dark brown tips.
Central spines: 4 to 8, with sometimes one hooked

,

white with brown tips, 8 - 10 mm long.
Radial spines: 14-21 , white, 5 - 8 mm long.
Flowers: Around the top

,

white to pale pink., with pinkish mid

-

veins,

up

to 20 mm in diameter.
Blooming season (Europe): June, August.
Fruit: Club

-

shaped, orange to red, 10 - 18 mm

.


Seed: Nearly round, black.


Mammillaria slevinii forms rings of showy white to pale pink flowers with a pinkish midvein in summer.



Propagation: Direct sow after last frost, or use cuttings.



Advertising




Family:
Cactaceae (Cactus Family)

Mammillaria slevinii

Scientific name: Mammillaria albicans (Britton & Rose) Berger 1929

First description: Neomammillaria albicans by Briton & Rose 1923

Origin: Mexico (Baja California Peninsula and various islands, Mexico.

Habitat: Grows on limestone-rich substrata, altitude 10 to 200 m.
Conservation status: Listed in CITES appendix 2.
Other Synonyms:
Chilita slevinii,
Bartschella albicans
Mammillaria albicans fa dolorensis
Mammillaria albicans fa slevinii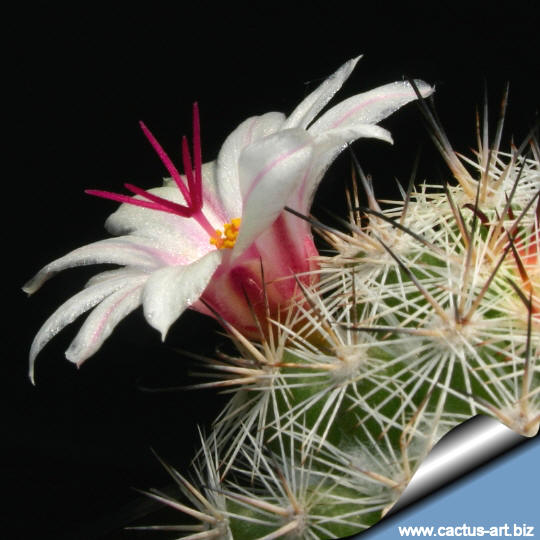 Cultivation: It is slow-growing, and not especially easy to grow. Use pot with good drainage and a very porous mineral-based potting mix. Potted plants are quite wet-sensitive, especially in light of its small root system. Water sparingly during the growing season, keep very dry in winter. Feed with a high potassium fertilizer in summer.
Usually it is recommended to overwinter this plant in a bright and warm greenhouse with at least 8-10° C, but it has proved to be quite frost resistant (if kept dry, it's hardy as low as -5° C). Strong light is required for flowering.
Some plants will offset readily, and clumps can be produced in a very few years.