Monadenium ritchei ssp. nymbayense is a beautiful and desirable plant with fat thick sculptured stems.

Description: It is a small clumping succulent that form large compact clumps with time.
Stems: Short, thick, light green, tuberculate freely branching from the base or from underground suckers , up to 30cm tall, each stem 3 cm wide.
Spines: Small and very short.
Leaves: 2,5-4 cm long, light green deciduous and fleshy. If grown in enough light the leaves (and stems) can take on a purple hue.
Roots: Thickened and fleshy .
Flower: Hot pink cyathias.
Blooming season: Late in the summer or in autumn, just before or as it goes dormant.




The stems takes a nice red colouring when exposed to direct sun. (A pant in autumn after the shedding of the leaves)





Advertising




Family: Euphorbiaceae
Scientific name: Monadenium ritchiei ssp. nyambense S. Carter,
Published in: Kew Bull., 42 (4): 915: 1987

Origin: Eastern Africa, Kenya (Meru Distr.)
Habitat: Rocky slopes, at about 1300 m altitude, growing in a well drained soil with some water in summer and none in winter.
Conservation status: Listed in CITES appendix 2.
Synonyms:
Monadenium ritchiei Bally,
Published in: Candollea, 17. 32, 1959
Euphorbia ritchiei (P.R.O.Bally) Bruyns 2006
Euphorbia ritchiei ssp. nyambensis (S.Carter) Bruyns 2006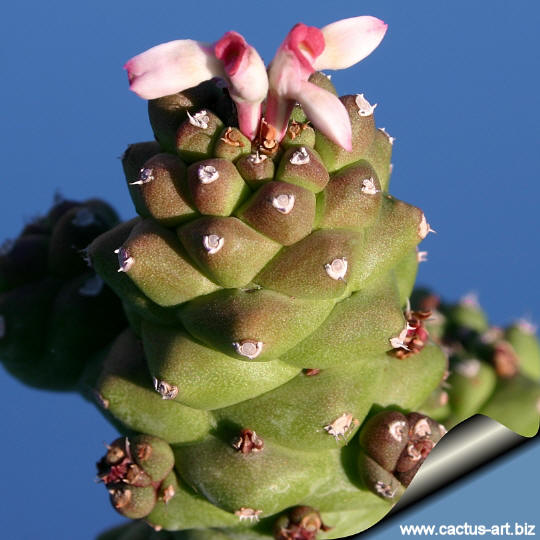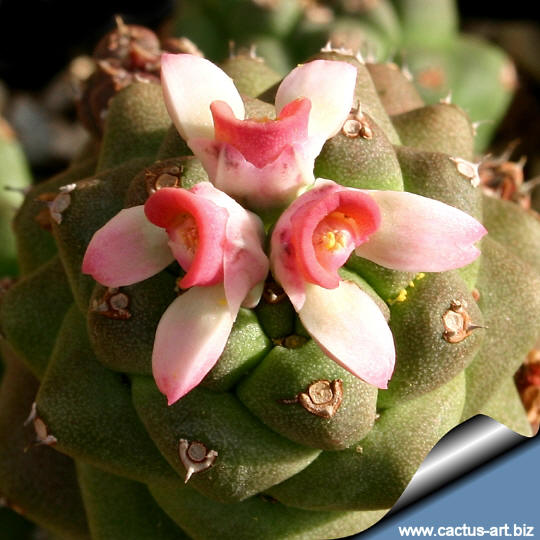 Cultivation: Easy to grow, it spreads by underground shoots and forms large clumps with time and therefore requires a broader pot. Monadenium ritchiei due to its African origin cannot tolerate freezing temperature but should be able to handle 7 degrees C very easily. However, that species seems to hate being wet for any extended period and rot easily especially in winter if overwatered. Sun Exposure: Light shade
Propagation: Cuttings, seeds.