Myrtillocactus bears small sweet, edible berrylike fruits.


Description: Candelabra cactus, less branched than other species in genus, but taller up to 5 m tall, with a very stout trunk and short ascending branches.
Stem: Dark green, erected, up to 10 cm in diameter.
Ribs: 7-8
Areoles: circular: Crowded with black felt, about 5 mm. apart;
Radial spines: 6 to 8, straight, 5 to 12 mm long, black or brownish;
Central spines: one straight 2 to5 cm. long;
Flowers: Rather small, whitish or crème up to 4cm, somewhat resembling orange flowers, having scarcely any tubes; the short stamens are almost entirely exerted.
Flowering time: Diurnal in summer.
Fruit: Small, globular or oblong berries, 10 to 15 mm. long, edible; seeds very small, black.
NOTE: In habit and fruit this species is very similar to the well-known Myrtillocactus geometrizans, but differs from it greatly in colour of stem and in the areoles and spines.

Propagation: Seeds, cuttings in summer (Cuttings will root only in hot weather. Cuttings must be kept very dry to root)



Advertising




Family:
Cactaceae (Cactus Family)
Scientific Name: Myrtillocactus schenckii (J.A.Purpus) Britton & Rose
Published in: Contr. U. S. Nat. Herb. 12: 427. 1909.
Basionym : Cereus schenckii J.A.Purpus
Published in: Monatsschr. Kakteenk. 19: 38. 1909
Common name: Garambullo, Vichishovo.

Origin: Mexico (Oaxaca, Puebla) Type locality: Sierra de Mixteca, Puebla, Mexico.

Ecology: forms forests in some areas of the Chihuahuan desert.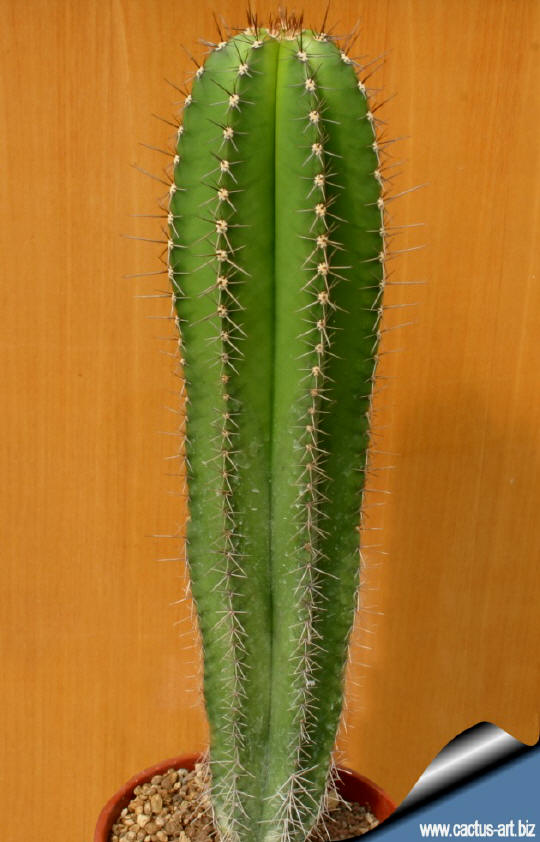 Culture: It is easy to grow but semi hardy, make sure that your Myrtillocactus are not exposed to temperatures below -4°C or they may die, nevertheless it is a good advice never let the nighttimes temperatures fall below 10°C. Need a fertile, well drained soil mix. Water the plants well and allow them to dry before watering again. This species seems to do better with a little more water than most cacti. In fact, its cultivation requirements are really more like 'normal' plants than most other cacti. During the growing season fertilize them with a balanced fertilizer
Sun Exposure: Outside full sun, inside needs bright light, and some direct sun. During winter month, put them in a cool luminous place and encourage them to enter winter dormancy by withholding water and fertiliser. They are susceptible to fungal diseases if overwatered, but are not nearly as sensitive as many other cacti, especially in warm weather and need more water than desert cacti.
If kept too much damp through cold periods, they will invariably suffer.
Since they are big sized plants need plenty of space for their roots, repotting should be done every other year or when the plant has outgrown its pot. They produce good amounts of growth each year if kept well fed and watered throughout the warmest months, particularly if they have been acclimatised to accept full sun. Once these cacti are established they can easily produce 20cm of growth every year.