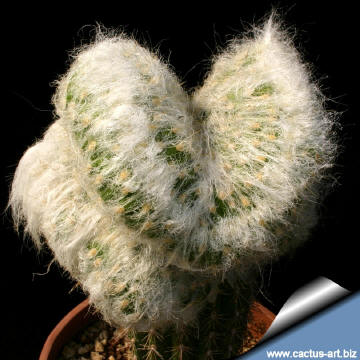 Description: Bright green stems with blunt ribs that protrude less than 1 cm and are slightly prominent where the areoles are borne.
Areoles: circular, greyish-white and felted, separated by slight depressions,
Spines: stems are covered in long, white, hair-like spines (which becomes more dense in strong light) to protect them from the mountain cold and hot sun. Hidden in this white down are long, needle-like spines straw-coloured.

NOTE: This plant was previously included in the segregate genus Morawetzia (Backeb.) that differ from Oreocereus because of the apical cephalium consisting of hairs and bristles and becoming clavate at the apex. Flowers arise from this cephalium.
Cultivation: This is a frost hardy cactus that grow at high altitude (hardy to -12°C) It need full sun exposures. Grow in a rich, porous and draining soil and let their soil dry out between waterings. Repot in the spring, when their roots become cramped. Generally, they should be repotted every other year in order to provide fresh soil. After repotting, do not water for a week or more.

Propagation: Grafting, cuttings