The small dark purple-black flowers.



Description: This minuscule plant, with thin, rough-tubercled, cylindrical stems looks nothing like the other species, it branches from an early age, six months or so,

and its fruits (horns) are small but numerous, adorning almost every shoot

Cultivation: P. dodsonianus although not easy to grow, is nonetheless easier and quicker growing than the others Pseudolithos and grows quite well in a greenhouse, it enjoy surprising amounts of water when they're growing. They need a very fast draining soil and protection from cold and damp, but doesn't like to get bone dry, even in winter, when plants must receive regular light watering, this species is comparatively quite frost resistant, but the minimum temperature must not lower below 0° C (anyway it can tolerate occasional light frost for short period), with adequate water supply this species can flower all the winter long . They come well from seed, do reasonably well in cultivation if given the right conditions. Since they're slow growing branching plants they can stay for many years in a small container
But they remain quite expensive rarities.


Advertising




Family:

Asclepiadaceae (Apocynaceae)

(Milkweeds family)

Scientific Name:

Pseudolithos dodsoniana

Lavranos) Bruyns & Meve

,
Published in: Edinburgh. J. Bot. 52: 202 (1995).

Origin: P. dodsonianus is a beautiful plant originated from Northern Somalia and Oman

This species together with P. caput-viperae and P. mccoyi are the only freely branching members of the genus. Originally classified as a Caralluma, was transferred into Pseudolithos, as P. dodsonianus and now again in the genus Anomalluma as A. dodsoniana because of stem morphology and DNA researches.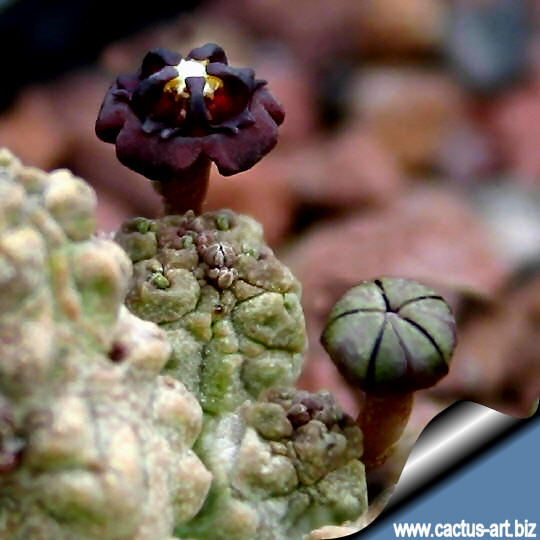 The flowers (Corolla 6 mm diam) produced
from near the tops of the plants, can be self fertile.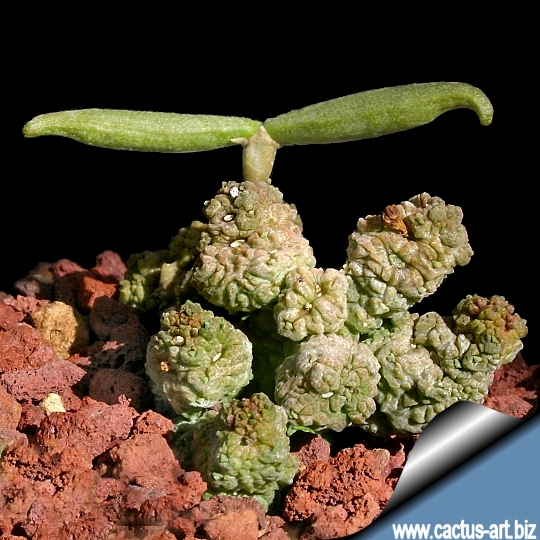 Pseudolithos dodsoniana x Pseudolithos migiurtinus
Despite their obvious differences in growth form, and the fact that they do not naturally hybridise in habitat, these two species do artificially produce some interesting grey or brown skinned hybrids which have pyramidal or elongated shape.