Agave parrasana (A juvenile specimen)
What a beauty of a miniature Agave! It is among the most ornamental species, vying with A. victoria-reginae in the exquisite regularity of its form. The young plants are quite different from the adults, but are however very lovely too.


Description: A. parrasana is a compact, chunky, small sized agave related and similar to Agave parryi. It has very short broad leaves that form into a tight, symmetrical, spherical rosette, shaped like a 'globe artichoke' 40-60 cm tall, 30-50(-90) cm in diameter. It produces few or no offsets but can form small mounds in the pot or landscape.
Leaves: 40-60 per rosette, waxy grey or blue-grey and closely overlapping. They are short, stout and broad, obovate, nearly round, measuring 20-30(-40) cm long and nearly 10-20 cm wide. Plane to concave above. They are edged with decorative but variable greenish-brown, straight to curved teeth. The teeth are largest near the leaf tip, getting smaller towards the base. the leaves end in a sharp thin red spine 2-2,5(-4) cm long and decurrent. The leaves are held tightly, almost like a bud, giving the plant a very distinctive form. Colour and tooth form are indeed quite variable.
Flowers: In bud, the flowers are flushed with red or purple and open yellow, they appear on a 3- 4(-6) m tall ellipsoid panicle with 12-15 branches. The flowers are enclosed into large, reddish to purplish bracts that subtend the clusters of flowers.
Blooming season: Early summer (June-July). Remember that the plant will flower once, then it dies.



Advertising




Family: Agavaceae
Scientific Name: Agave parassana Berger
In: Notizbl. Königl. Bot. Gart. Berlin 4: 250, 1906

Origin: Endemic to a very small area in south-eastern Coahuila (Mexico)

Habitat: Mountainous areas 1350-2400 m in elevation. Grows on grassy slopes, in chaparral shrub and pine-oak forests on limestone.

Synonyms:
Agave wislizeni ssp. Parrasana (A. Berger) Gentry 1975
(Incorrect name, Art. 11.4)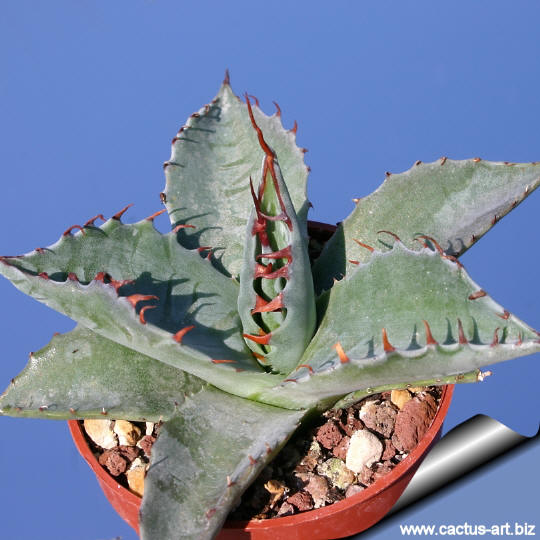 Cultivation: A. parrasana is a stunning specimen plant for containers or a well drained spot in the garden noted as rare in cultivation. It tend to be slow grower, taking several years to achieve a mature size, but worth the effort. Grow them in porous soil with adequate drainage. They should be grown only in full sun. The leaves will keep their blue-gray color and the plants will stay more compact. Water thoroughly when soil is dry to the touch. In winter watering this plant can be done once every 1-2 months, there is no need to mist the leaves. It is a cold hardy species, tolerating temperatures down to at least 9° C particularly when dry but it is best to avoid severe freezing temperatures. Heat and drought tolerance: Excellent.
Propagation: Relatively easy to propagate by seeds or by suckers (if available) Remove the basal suckers in spring or summer and let the cuttings dry for a few days before inserting in compost.. only problem is the logistics of getting to the suckers - very sharp spines and suckers usually right up against, or underneath the mother plant.
Uses: Agave parrasana make great potted plants as well as excellent landscape plants. They are wonderful when used for accent or simply to provide some all year round foliage colour and often used in a pot as a patio plant, they make an eye-catching statement and along with other evergreen plants in pots, can be moved around to change the scenery or position to give more shelter.