E. coccineus AG11 Jarilla Mts.
These cacti can clump to form mounds of almost mythic proportions. The birdie-flowers are red with rounded petal tips, they are real traffic-stoppers.


Description: Usually clumping, often in large colonies of as many as 50-100 (500)-thick stems on each plant at maturity. Stems can vary from almost spineless to wildly and densely spined.
Stems: Semi-erect, dark green, from 8 cm to 40 cm tall, 5 cm in diameter.
Ribs: 8 to 11.
Spines: Mostly undifferentiated between radials and centrals; 0 to 4 centrals, up to 7.5 cm long; 5-20 radials.
Spines are yellowish and turn grey after a number of years.
Flowers: Hummingbird-attracting, colour ranges from near orange, scarlet , and pink to deep crimson shades, with rounded petal tips length and width averaged 80 mm and 30 mm, respectively, stigma with 7 or 8 lobes.
Blooming season: Peak flowering comes from late April to June on mature clumps. Fruiting 2-3 months after flowering.


E. coccineus AG11 Jarilla Mts. Flowers are pollinated by hummingbird-attracting, colour ranges from near orange, scarlet, and pink to deep crimson shades.


E. coccineus SB344 Sandoval Co. NM


E. coccineus AG11 Jarilla Mts.


Female and male flowers: Echinocereus coccineus is a cactus with both hermaphroditic (bisexual) and dioecious (male and female) forms of flowers in different plants. Male flowesr show pollen-filled anthers surrounding the base of the stigma lobes. Functional female flowers from different plants show reduced filaments and empty anther sacs held below the stigma lobes.
The flowers appear specialized in hummingbirds, but are also pollinated by bees. They are huge and highly rewarding, and daily nectar production averages 30 mg sugar per flower. This set of traits represents a syndrome rare among hummingbird flowers, in which the flower fits the head rather than just the bill, and birds are well rewarded for a risky or inconvenient visit.

Photo of conspecific taxa, varieties, forms and cultivars of Echinocereus coccineus.


Advertising







Family:
Cactaceae (Cactus Family)
Scientific name: Echinocereus coccineus ssp. coccineus Engelmann 1848

TL: New Mexico, Wolf Creek, Wislizenus,24 June 1846 (MO)
Common Name: Mexican Claret Cup, Scarlet hedgehog cactus.
Origin: Southwestern USA (Arizona, Texas, New Mexico, Colorado, Utah, Nevada, California) and Mexico (Sonora, Coahuila, Chihuahua)
Habitat: Chihuahuan Desert, desert scrub, desert grasslands, pinyon-juniper and oak woodlands, Great Plains grasslands, mountain forest, bajadas, on rocky outcroppings, and cliffs, igneous, metamorphic, and limestone substrates; 150-2700(-3000) m, often in the partial-shade of oak and pine-oak woodlands and mixed conifer forest.
Conservation status: Listed in CITES appendix 2.
Synonyms:
Cereus coccineus (Engelmann) Engelmann 1849 nom. illegit. [not Cereus coccineus Salm- Dyck 1828].
Echinocereus phoeniceus Engelmann ex Rümpler 1885:788 nom. illegit.
= Cereus phoeniceus Engelmann 1856:284.
Echinocereus melanacanthus Engelmann ex Earl 1963:61 printing error.
Echinocereus triglochidiatus var. coccineus (Engelmann) Engelmann ex Marshall & Bock 1941:117.
Echinocereus coccineus was formerly considered a synomyn of triglochidiatus, but is now considered a distinct species.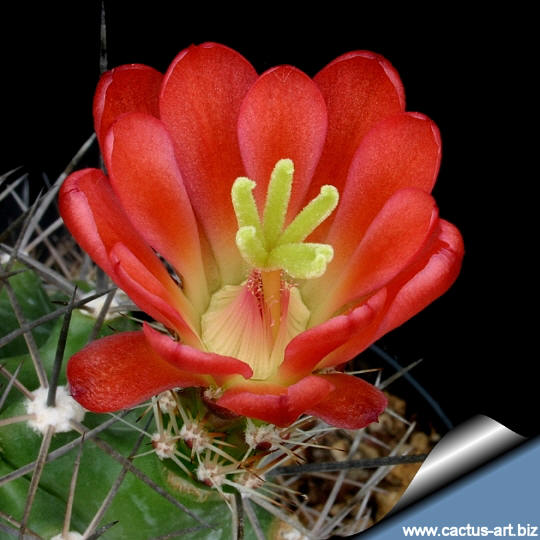 A female flower from different plants show reduced filaments and empty anther sacs held below the stigma lobes.
There are a number of varieties of this highly variable cactus species, but not all are universally recognized. Some authorities recognize the following varieties:
The 'coccineus' subspecies (including 'roemeri') has stems that are 2,5 to 5 cm thick, with 8 to 11 ribs. The spines are not differentiable between centrals & radials. There are 0 to 4 central spines and 5 to 20 radial spines per areole. The red-orange flower is 7-8 cm across, and the stigma has 7 or 8 lobes.
The 'arizonicus' variety is listed as an endangered species.
The 'paucispinus' variety has stems that are about 6 cm thick, with 5 to 8 acute narrowly furrowed ribs that have areoles that are spa ced 0,5 to 1 cm apart. It has 0 or 1 central spine, 1.4 inches long, and 3 to 6 radial spines that are curved and straight. The flower is red with a hint of orange & shaped like a funnel about 5 cm long, having 7 lobes of the stigma.
The 'gurneyi' variety clumps to over 10 stems that are a darker green in color compared to the other varieties, and 10 cm thick. The stems have 8 to 11 ribs that have 1 central spine up to 7,5 inches long, and 5 to 12 radial spines per areole. The flowers are Orangish-red. This variety is often included into the 'coccineus' subspecies. It looks like coccineus, but is very clustering!

Cultivation: Rot prone, it is sensitive to over-watering. It needs very good drainage to avoid rotting, but requires more moisture than true desert cacti to grow and produce flowers , Keep drier and cool in winter. It needs full sun. It is very cold resistant from -10° to -25° C (depending on clones) or less for short periods of time. It is a fine plant for a rock garden or container, contrasts well with agaves, yuccas, and low-growing flowering plants.

Propagation: By cuttings, as they branches freely from the base. They can also be grown from seeds.
USES

Grafting stock: The taller fast-growing forms of E. coccineus and of E. triglochidiatus are highly recommended stocks for grafting cold hardy type cactus species. These can be used as cold hardy type stocks for almost all types of cactus, while still retaining the original natural grown look to the scion.

Food: The Native Americans of New Mexico ate the fruit fresh or preserved.