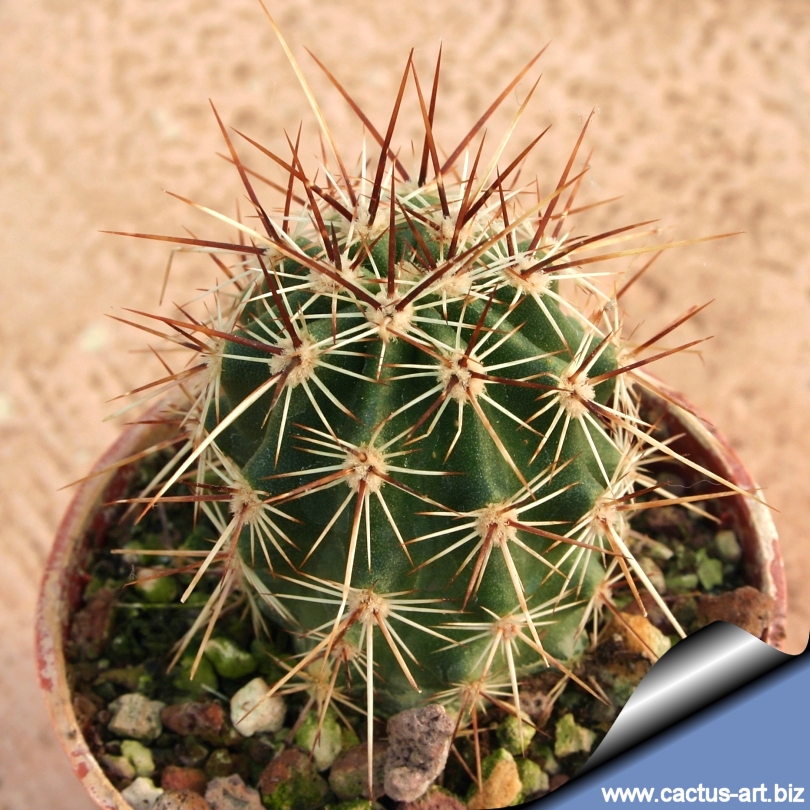 Echinocereus chrysocentrus Indian springs.
This is one of the the most formidably spiny species within the genus Echinocereus. It has browhnish/purple spines and bloom with purple flowers. These plants are extremely exotic, yet they are very cold hardy.

Description: Formidably spined and free clumping columnar cactus, 6-25-branched, ultimately forming somewhat open clumps of stems.
Stems: Suberect or erect light green, cylindric or somewhat tapering distally, usually 15-20 cm tall, and about 5 cm in diameter, branching freely from the base;
Ribs: 11 to 14 low obtuse, tubercles indistinct, crests slightly undulate.
Areoles: 6-15 mm apart, wool present in first year only.
Spines: 8-20 per areole up to 13 cm long; divergent-porrect, stout, and rigid, straight or curving and somewhat twisted, brownish-purple (bright purple when young).
Radial spines: Lighter whitish to creamy coloured 8-20 mm long long, spreading.
Flowers: From purple to lavender. The flowers are up to 7 cm in diameter, 5-8 cm long . Flower tube hairy.
Blooming season: Spring, flowers are diurnal close at night and reopen in the morning and last for about five days.
Fruit: Red or orangish 2.5-4cm long, spheric, fleshy, pulp whitish be-coming infused with pink or red from the skin. The fruit is edible, it is said to taste like strawberry.


Cultivation: In cultivation the strawberry hedgehog grows rather slowly and it is sensitive to overwatering (rot prone) needs a very good drainage to avoid rotting, but requires more moisture than true desert cacti to grow and produce flowers, Keep drier and cool in winter. Need full sun. It is cold resistant to -10° ( or less depending on clones) for short periods of time. It is a fine plant for a rock garden or container, contrasts well with agaves, yuccas, and low-growing flowering plants. It will show its flowers only if we provide an adequate winter rest period.

Propagation: Seeds, also can be grown from cutting as it branches from the base.




Advertising
Family:
Cactaceae (Cactus Family)
Scientific name: Echinocereus engelmannii (Parry ex Engelm.) Lem. var. chrysocentrus (Engelm. & Bigelow) Engelmann ex Rümpler 1885
in Engelmann 1856:283. [Fuller description in Englemann 1857:35]
Origin: South-western USA (Southern California, Arizona, southern Nevada, Utah) TL: Arizona, Bill Williams River, J. M. Bigelow, 13 Feb. 1854 (MO).
Habitat: Grows on gravel, sand and rocky hills.
Common Names include: Engelmann's hedgehog cactus, Strawberry Hedgehog Cactus, Saint's cactus.
Conservation status: Listed in CITES appendix 2.
Echinocereus chrysocentrus (Engelmann & Bigelow) Orcutt 1926
Echinocereus engelmannii (Parry ex Engelmann) Lemaire.


Publisced in:

Cactées. 56. 1868
Cereus engelmannii Parry ex Engelmann
In: Amer. J. Sci. Arts, ser. 2, 14: 338. 1852 (as engelmanni);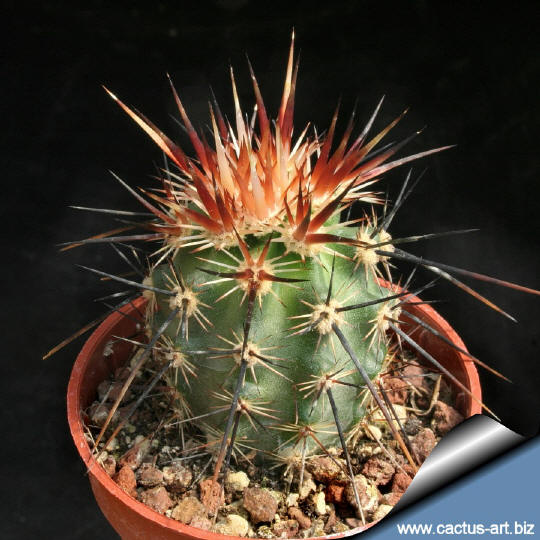 Echinocereus (engelmanii) chrysocentrus (purpureus)
RP75 St. George, Washington County, Utah, USA
New spines in spring.
Photo of conspecific taxa, varieties, forms and cultivars of plants belonging to the Echinocereus engelmanni complex (This Taxon has lots of synonyms whit several controversial varieties and subspecies and comprises a multitude of different forms, but where each form is linked to others by populations of plants with intermediate characteristics):