Echinocereus scopulorum
Fragrant pink flowers with clear throat 7-8 cm long.
It blooms from April to June, and occasionally later in summer.


Description: Unbranched (rarely few branched).
Stems: Erect, short cylindric, to 20(-40) × 4-6 cm;
Ribs: 13-19, crests slightly undulate, sometimes tuberculate;
Areoles: Round , closely set 4-8 mm apart.
Spines: 13-17 per areole, stiff and straight, white, pink, brown or gray, becoming gray with dark tips; radial spines 12-17 per areole, appressed to spreading, 2-12 mm; central spines (0-)1-4 per areole, projecting, 1-4 mm.
Flowers: 5-8 × 7-10 cm; inner tepals purplish pink, darker proximal portion and midstripes, tips relatively thin and delicate; anthers dark yellow. Filaments and throat greenish.
Blooming time: Spring to summer
Fruits: Dark green, brownish tinged, 15-23 mm, pulp white, fruiting 2 months after flowering.





Cultivation: E. scopulorum is relatively easy to grow and very attractive. Rot easily it is sensitive to overwatering (rot prone), so perfect soil drainage is a must. It prefer a neutral to slightly acidic compost with plenty of extra grit. Best if watered with rain water and given an occasional tonic of sequestrated iron. In the summer they need an airy location in bright sun; well watered when it's hot. To achieve the best spine colours give these plants lots of sun. In the winter light, cool, and absolutely dry conditions. Very cold resistant above approx -12C or less for short periods of time. In mild climate they grow well when planted freely outside in well-drained soil.

Propagation: Seeds

Photo of conspecific taxa, varieties, forms and cultivars of E. bristolii/pseudopectinatus complex (This Taxon has lots of synonyms whit several controversial varieties and subspecies):


Advertising




Family:
Cactaceae (Cactus Family)

Scientific name: Echinocereus scopulorum Britton et Rose 1922
Origin: Mexico (coastal Sonora, Tiburon Island, coastal Sinaloa)
Habitat: Chihuahuan Desert, desert scrub, mostly semidesert grasslands, rocky slopes, mostly igneous substrates.
Conservation status: Listed in CITES appendix 2.
Common Name: Sonoran Rainbow Cactus
Synonyms:
Echinocereus pseudopectinatus (N. P. Taylor) N. P. Taylor
Pubblished in: Bradleya. 7: 74. 1989.
Echinocereus bristolii var. pseudopectinatus N. P. Taylor
Pubblished in: Gen. Echinocereus, 120, figs. A-C (p. 119). 1985;
Echinocereus scopulorum subsp. pseudopectinatus (N. P. Taylor) W. Blum & Mich. Lange Pubblished in: Blum et al. 1998:342.
Echinocereus pectinatus var. scopulorum (Britton & Rose) Marshall 1955:61
Echinocereus pectinatus
Echinocereus cochisei Hester
Misidentifications of E. scopulorum (= pseudopectinatus) were the basis for Arizona reports of E. pectinatus and E. dasyacanthus, which belong to an unrelated species group from the Chihuahuan Desert. Formerly, E. pseudopectinatus was considered conspecific with E. bristolii W. T. Marshall, a closely related endemic species of Sonora, Mexico.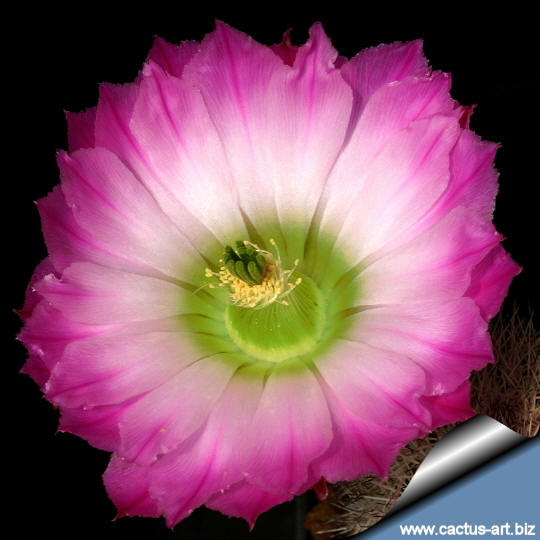 The flowers of E. scopulorum are truly beautiful.


Spines are stiff and straight, white, pink, brown or grey
becoming grey with dark tips.