Description: This is a very nice crested Echinopsis, easily recognizable for its almost spineless body.
Stem: Very fat (quite large for a crested plant ( 8 to 20 cm thick) it can form in age a huge convoluted mound.
Spines: absent
Flowers: These cacti produce gorgeous, night-blooming, white funnel-shaped, fragrant flowers with long tubes 15-22 cm long. Old plant may have many flowers at a time. This species blooms from late spring to all summer long, the flowers open on the morning of the first day and remain opened all the night long but last only one day in full beauty, at the second day they start to wither.


.

Photo and © copyright by Simone (cactuslover-Italy)


Photo of conspecific taxa, varieties, forms and cultivars of Echinopsis subdenudata.


Advertising




Family:
Cactaceae (Cactus Family)
Scientific Name: Echinopsis subdenudata Cárdenas 1956
Forma cristata
Origin: Garden origin (Nursery produced cultivar)
Common Names includes: Crested Easter Lily Cactus, Crested Night-blooming Hedge-hogs.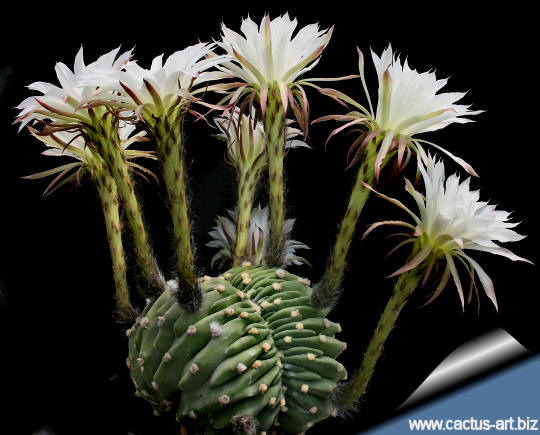 The cause of cresting: The cause of cresting is not fully explained. Biologists disagree as to why some plants grow in this unusual form. Some speculate that it is a genetic mutation. Others say it is the result of a strike of lightning or freeze damage, but whatever the stimulus, the growth point of the stem has switched from a geometric point, to a line, which folds and undulates as the crest expands. Though these crested E. subdenudata are very rare, cresting occurs naturally, and can be encountered in many other cactus species.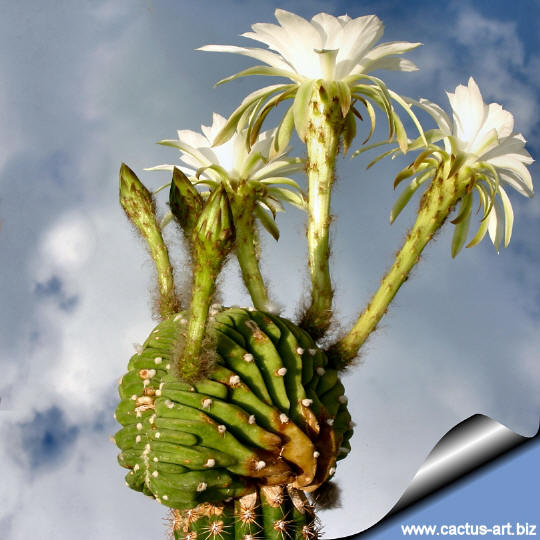 Photo and © copyright by Simone (cactuslover-Italy)
Cultivation: The grafted plants are easy to grow and will form a large brain-like mounds with age. Watering during the active growing season (spring and summer); this will encourage steady growth, and prevent the large tubercles from becoming flabby.
The plants on their own roots do well under cultivation. Use very draining soil, water during the aestival growth cycle (They need plenty of water), but need to be avoided wetting the bodies of these plants while they are in sunlight. A wet cactus in the sun light can cause sun burning which can lead to scares or even fungal infections and death.
Need half sun. Keep dry at 10°C in winter, but they can tolerate sporadic light frost.
Propagation: Grafting or stem cutting.