Description: E. balsamifera forms intricately branched, rounded shrub of variable height from very short bushes hardly rising above the ground to small trees up to 5 m tall. They are pretty variable where leaf characters and stems development are concerned.
Stems: Thick, semisucculent, gnarling, spineless, approx 1 cm in diameter, covered in transversely elongated leaf-scars, dull pastel, grey or terracotta coloured, branching , with the base stalks becoming very thick. At the minimum injure it give out a pungent-smelling white latex.
Leaves: Up to 80 mm long x 4-8 mm wide, attractive, sessile, linear-lanceolate to long-oval shaped green to glaucous, clustered at branches tips.
Flowers: The inflorescences are terminal cymes usually reduced to a single subsessile cyathium up to 6 mm Ø on each branch which stay central above light yellowish-green pseudo-petals
Fruit: Large capsule approx 9x10 mm wide, viscid, green becoming pinkish reddish-green, shallowly lobed, glabrous or hairy, subsessile.
Seeds: Subglobose 3 x 2,8 mm wide.

Subspecies:
E. balsamifera ssp. balsamifera

Up to 5 m tall Origin Canary island, West Africa, Mauritania, Senegal, Niger.

r
E. balsamifera ssp. adenensis More compact, up to 1 m tall leaves obovate up to 2,5 cm long. Origin: Arabian peninsula, Sudan (Red sea hills) North Somalia at an altitude ranging from 900 to1550 m.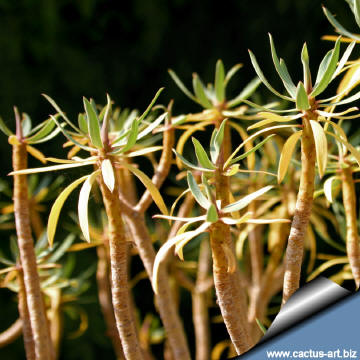 Leaves are caducous and shed when the wheatear is hot and dry especially in the summer month.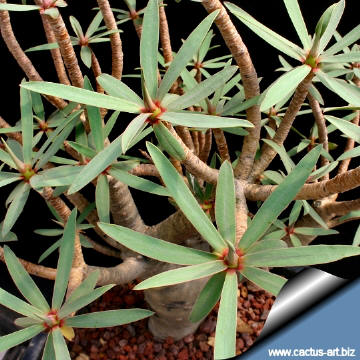 New leaves in the autumnal resumption after the summer rest period.