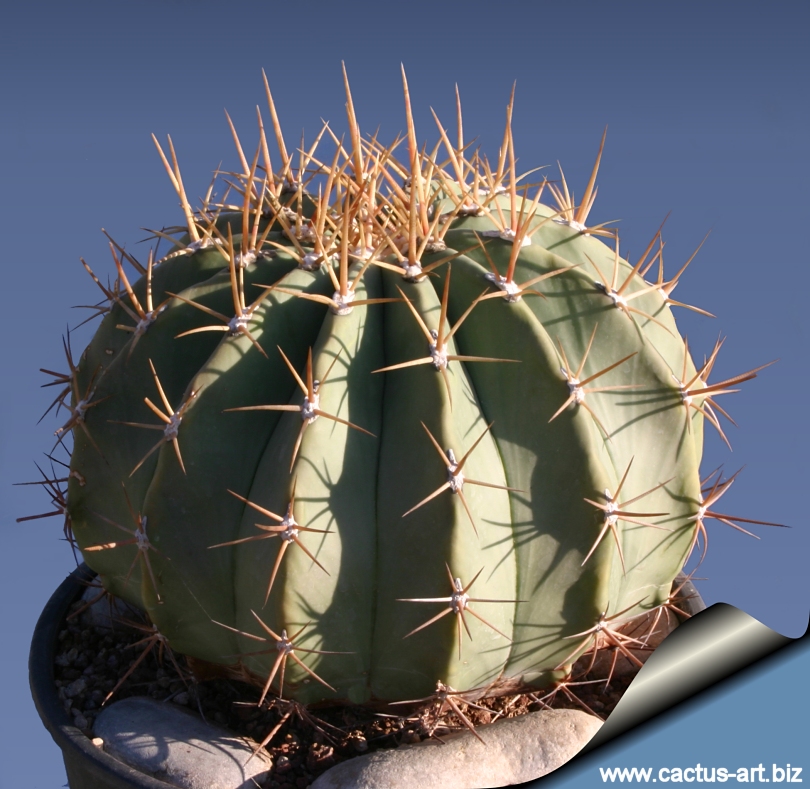 This rare and distinctive barrel cactus has relatively weak spines for a Ferocactus with wide blue ribs.
Description:
Small barrel cactus, usually solitary but
it
sometimes clump
s
at the base
.
Stem: Depressed
,
globose to shortly cylindrical up to
90 cm tall and 45 cm in diameter
, occasionally much taller;
Ribs: 12-20
mm
broad
,
acute
,
slightly tuberculate
.
Areoles: E
longated
,
woolly, about 1,5
mm
long.

Spines: Needle-like
,
d
ensely intermeshed
,
with a reddish tinge in the new growth
Central spine: 1, sometimes flattened,
up
to
7.5
cm long;
Radial spines: 3-8 straw-coloured,. 3 to 4 cm long .
Flowers: Wide open
,
greenish yellow, up to 4.5 cm long, 3.5 cm in diameter. The petals are spatulate and broad.
Fruit: Dull brown-red fruits splitting open when ripe,
Photo of conspecific taxa, varieties, forms and cultivars of plants belonging to the Ferocactus pottsii complex (This Taxon has lots of synonyms ( like many other cacti) whit controversial varieties and subspecies:
Taxonomy note: The differences with F. alamosoanus are in reality very minimal. The ribs in F. alamosanus are more numerous and the central ribs are longer, The subspecies 'alamosanus' usually has about 20 acute ribs, heavy spination, and only grows to 25 cm in height.


Advertising
Family:
Cactaceae (Cactus Family)
Scientific name: Ferocactus pottsii (Salm-Dyck) Backeberg.

Etymology: Named for John Potts, manager of a mine in Ciudad Chihuahua.
Origin: Mexico (Chihuahua, Sinaloa, Sonora), in deciduous vegetation, from 800 to 3300 feet elevation (240 to 1000 m)
Conservation status: Listed in CITES appendix 2.
Synonyms:
Echinocactus pottsii

Ferocactus guirecobensis
(This Taxon belong to a group of six closely allied species. The group is: F. alamosanus, F. pottsii, F. schwarzii, F. reppenhagenii, F. glaucescens, & F. echidne)

Cultivation: Slow growing to start, but does well under cultivation. Use very draining soil, water during the aestival growth cycle (this plant need plenty of water) But it is necessary to avoid wetting the bodies of these plants while they are in sunlight. A wet cactus in the sun light can cause sun burning, which can lead to scars or even fungal infections and death.
Needs full sun. Keep dry at 10°C in winter, but can tolerate sporadic light frost.
Reproduction:
Seeds are the only way of reproducing.