Gymnocalycium deeszianum cv. YELLOW SUNSHINE (forma variegata)


Description: The normal G. deeszianum is a small globose solitary cactus and the variegated form here described only differs from the standard form for the odd yellowish colour of epidermis. The yellow appearance of this Gymnocalycium is more precisely caused by an aberration called "schizochromism". Here, though, the specific green pigment (chlorophyll) is partially missing, every other pigment is present at normal levels, the dominant green colouration is lost, but will still more than likely have normal other pigments that give the yellow overall appearance of stems. The yellow colour of this plant is transmitted from the parent to the offspring and this plant is reproduced by seeds.
Stem: Up to 6.5 cm tall, 8-10 cm in diameter, globose, flattened to elongate, light olive green with diffused yellow fading, becoming a pleasant pale yellowish-green.
Ribs: Rounded, slightly chinned.
Radial spines: Spreading, straight to more or less curved and bent against the stem. Creamy yellowish with darker tips.
Central spines: 0-1 (Often absent).
Flower: Pale pink or (usually) pure white.


.


Advertising




Family:
Cactaceae (Cactus Family)
Scientific name: Gymnocalycium deeszianum Dölz. 1943 numen dubium
Published in: Kakteenkunde (unnumbered volume): 54-55, 1943

cv. YELLOW SUNSHINE (forma variegata)

Origin: Garden origin (Nursery produced cultivar)

Synonyms:
G. capillense var. sigelianum fa. deeszianum (Schick) Till, In: Gymnocalycium 16(1): 489-498 (2003)
G. gibbosum var. deeszianum (?)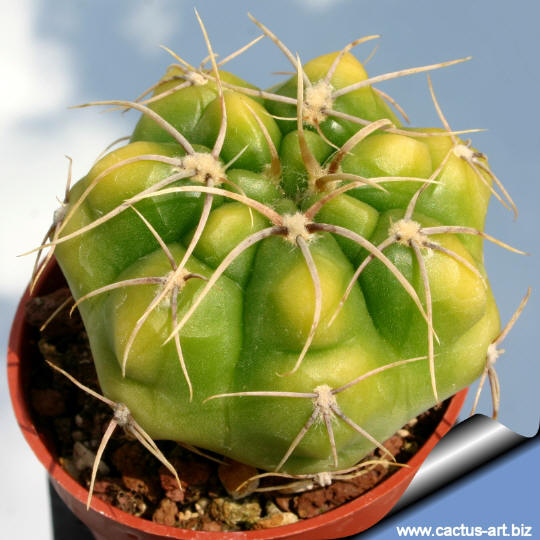 Cultivation: This is a species that offers no cultivation difficulties. It is a summer grower that enjoy some shade during the hottest part of the day. Water regularly in summer (but do not over-water). Keep rather dry in winter. Feed with a high potassium fertilizer in summer. Hardy as low as -5° C (or less) if kept dry.
Propagation: Direct sow after last frost or cuttings, but seldom produces offsets.

Photo of conspecific taxa, varieties, forms and cultivars of plants belonging to the Gymnocalycium capillaense complex (This Taxon has lots of synonyms ( like many other cacti) whit several controversial varieties and subspecies and comprises a multitude of different forms, but where each form is linked to others by populations of plants with intermediate characteristics):